Eye candy popular plot sweetener
China Daily | Updated: 2019-02-11 07:27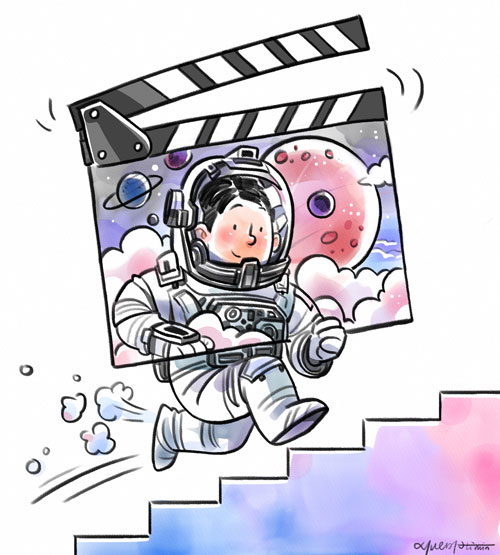 The Wandering Earth, a Chinese science fiction film, has reaped 1.6 billion yuan ($237 million) at the box office since it premiered on Tuesday. China Daily reporter Li Yang comments:
The movie has been widely praised as breaking new ground for Chinese science fiction films, which remain largely unknown to the rest of the world.
But it is not the film itself-which is lumbered with a strained plot and sentimental gimmicks-that caught my attention, but the uniformity of its trumpeters at home. They unanimously speak highly of the film's "fabulous" visuals as if special effects are all it takes to make a world-class film.
And, of the 2,003 expensive special effects shots in the film, one-fourth, the most difficult ones, were created by German and Republic of Korean studios.
It is understandable that the Chinese audiences feel exciting to see frozen Beijing and Shanghai on doomsday in a Chinese film, which has been rare before. But that feeling of novelty should wear off soon, particularly with movie critics, who need to show more objectivity and professionalism when evaluating films, since there is nothing really new in this Hollywood blockbuster style production.
The fanfare around the film reminds me of that which greeted Wolf Warrior II, a movie that tells how a retired Chinese soldier saves people in a war-torn African country. The latter had a box office revenue of more than 5 billion yuan in 2017, a record for the Chinese film industry. But it was met with a cold shoulder in foreign markets.
Since China, like many other countries, strictly controls the imports of foreign films, Chinese filmmakers face much less competition in the world's largest film market. So the box office revenue at home does not necessarily reflect the quality of a movie.
It is worrisome that the commercial success of The Wandering Earth will divert more money to films with expensive special effects, no matter how large the holes in their stories and plots are.