Sci-fi blockbuster proves holiday hit, amazes critics
By LI YINGXUE/WANG RU | China Daily | Updated: 2019-02-11 07:52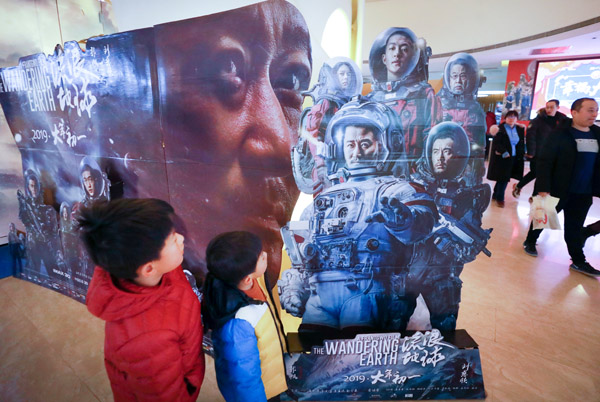 China's sci-fi feature film The Wandering Earth was a stellar performer during Spring Festival, raking in 1.9 billion yuan ($282 million) as of Sunday at domestic box offices since it hit cinemas on Tuesday. The film has garnered much acclaim from critics and audiences both at home and abroad.
The Wandering Earth is adapted from a novella of the same name by Liu Cixin, author of the Hugo Award-winning The Three-Body Problem.
It tells the story of an out-of-this-world plan at an undisclosed future time to use giant thrusters to move our planet, with its remaining 3.5 billion people, 4.2 light years through space to escape annihilation from the dying sun.
According to China Film Critics Association President, Rao Shuguang, films like The Wandering Earth and Crazy Alien, another Chinese sci-fi movie-also loosely adapted from one of Liu's stories-which had made 1.4 billion yuan by Sunday afternoon, "represent the general level of China's film development".
Directed by Guo Fan, the film stars actors Wu Jing, Ng Man-tat and Li Guangjie and took around $50 million and four years to make.
Wu thinks 2019 is "year one" of Chinese sci-fi films. "With 7,000 people taking part in the production of the film, we have educated at least this number of people on how to make sci-fi films," he said at the film's premier on Jan 28.
So far, The Wandering Earth has recorded a score of eight points out of 10 on Douban, a popular Chinese film and TV rating site, both receiving favorable reviews and sparking discussions on its storyline and effects.
"It fits the Hollywood standard on presentation and visual effects, but the themes of family and love of homeland are characteristic of Chinese sci-fi films," one online review reads.