The ease of rail travel invokes a memory backtrack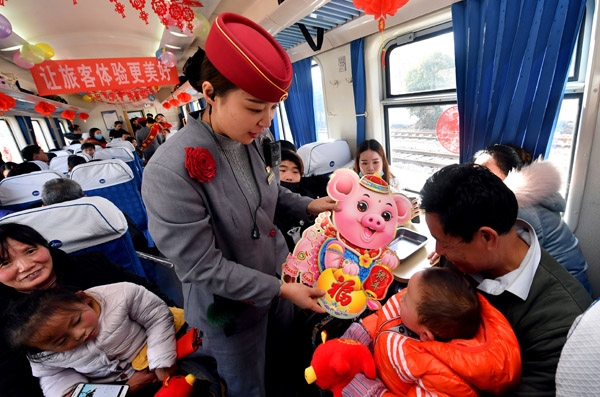 When I saw Wang Le take his time, looking at his mobile phone and drinking coffee at a waiting area of the Beijing West Railway Station in early February, my mind couldn't help but slip back to roughly a decade ago.
Wang has been my friend since childhood and we both settled in Beijing after graduation.
That long-ago meeting was in the same setting as this one. We agreed to meet at the same train station and travel back together to our hometown of Wuyishan, East China's Fujian province, for the Spring Festival holiday.
The perimeter of the train station was filled with anxious migrants who were desperately edging toward the station's entrance in a long line that looked easily 100 meters long. There was nothing I could do but inch along with the crowd, cheek by jowl.
It took me roughly 20 minutes to get in. When the time came for check-in, I called Wang, but he didn't pick up.
After waiting for another 10 minutes, he still didn't show up.
Time was running out, and I had to make a move myself. By the time I struggled to the carriage, it was already packed.
Those who failed to land a seat ticket created a thick human wall, which I had to elbow my way through to reach my window seat.
I sat myself down after quickly stuffing my luggage under my seat (there was already no room at the luggage rack overhead), and began to worry about Wang, who still wasn't answering my call.
Just when I was sure he would miss the train, a faint voice wafted in - right before the door was closed.
"I'm here," Wang said, before being immersed into the supple human wall that separated us.
When his face emerged from the crowd, I saw him puffing and panting, with sweat all over his forehead. His face was dark red.
After he managed to catch his breath, Wang began to regale me with tales of his trials and tribulations - and how he overcame them - with a seeming sense of pride.
He recounted how he had overslept and had to run for all he was worth to catch the train.
Apparently, his adrenaline had helped him cut corners and jump over fences - along with his heavy luggage - to cut through the slow-moving line of passengers like a frustrated parkour athlete.
By the time we had finally relaxed, we noticed the aisle of the carriage was blocked with passengers sitting on the floor. It would be nothing short of an odyssey for anyone to answer the call of nature.
For the remainder of the journey, we were both very frugal with our water intake to reduce the risk of needing the bathroom. Just like that, we endured 20 hours on the train.