With labor shortage in Heilongjiang, workers head north to plant rice
By Tian Xuefei and Zhou Huiying in Harbin | China Daily | Updated: 2019-05-15 09:02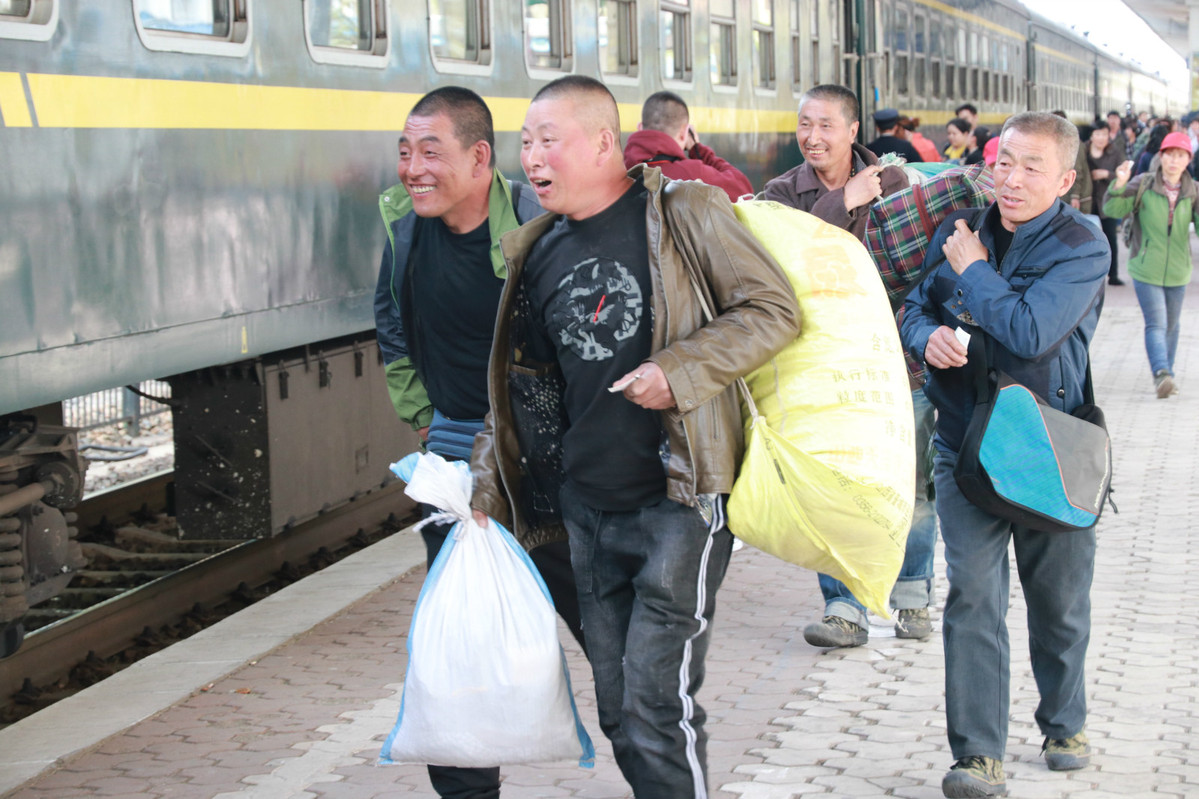 In the last two weeks, tens of thousands of migrant workers have climbed aboard trains at Suihua Railway Station in Heilongjiang province, hoping to take advantage of a seasonal window to earn extra money.
Because there are not enough local farmhands to plant rice seedlings on the Sanjiang Plain, groups of migrant workers descend on the area for several weeks each year. Most of them come from rural parts of Harbin, Qiqihar and Suihua, in Heilongjiang.
Because the climate is different on the plain, spring sowing can be done at a different time, giving many farmers in the region a chance to double up on planting - and income.
Since 2000, the special trains have transported 1.65 million migrant workers to and from the rice production areas of the province.
"Usually, the station's passenger volume is steady at around 7,000 a day, while it will reach 11,000 during the rice planting period," said Zhao Yesheng, director of Suihua Railway Station's passenger transport section.
"To avoid disorder, we have launched a series of measures, such as building a shelter on the square in front of the station for migrant workers to rest, and dispatching workers to lead them to enter the station and board the trains in an order manner."
Zhao, 47, has been working at the station for 27 years.
Since 2003, the station has sent tickets to surrounding villages and towns in advance of planting season.
"Many farmers have also learned how to buy tickets online and long lines are no longer seen," he said.
Shi Xia, 58, a farmer from Honger village, was one of the workers taking the train during the planting season.
"I have come to the farm every spring since 2011. There are 10 people from our village on this train this year, and we will do the same work planting rice seedlings for the next 20 days," she said. "Everyone can get 350 yuan ($51) per day, and we can make about 7,000 yuan by the time we go home. That's much more than I can earn at home."
Huang Yan, 32, who rents 28 hectares on the Jiangchuan Farm in the province, is looking forward to finishing the work with the help of the five migrant workers he hired from Suihua.
Jiangchuan, a State-owned rice farm on the Sanjiang Plain, has 20,000 hectares of arable land that are used to grow rice.
"Every year, our farm needs about 4,000 workers to plant rice seedlings. Most of them are hired from areas outside the plain," said Zhang Lei, head of the farm's publicity department. "Although mechanized agriculture has greatly increased in recent years, lots of work still relies heavily on manual labor, such as transporting rice seedlings, placing them on paddy transplanters and working in the areas that the machines can't reach."
"Last year, the income from my rice acreage reached 600,000 yuan, yielding a 100,000 yuan profit. I hope the planting of rice seedlings will go well this year and that we can reap an abundant harvest in the fall," Huang said.