Conflict escalates between humans and elephants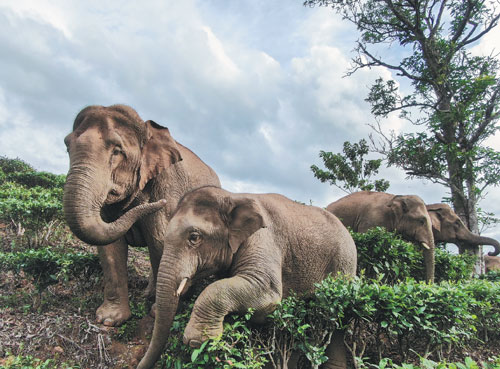 Monitor uses drones to check on animals' whereabouts
When Wu Junhui visits Nanha, a community in Yunnan province, he always attracts crowds of curious villagers, whether he arrives in the small hours or during the day.
The size of his audience can range from about 10 people to all of the community's population of around 40.
Wu monitors elephants by using unmanned aerial vehicles, or drones, and the first question the residents ask him is if he has seen one animal in particular, which some villagers refer to as the "naughty one". Others have nicknamed it "the terrorist".
The male Asian elephant, which Wu estimates weighs more than 2 metric tons, is worthy of its reputation.
On Aug 4, it entered an urban area of Mengla county, where the Nanha community is located in Manzhuang village. Videos uploaded to the internet by local residents show the animal roaming the streets, leaving huge footprints in some unpaved areas, and even trying to climb over a low wall. It placed his front feet on the wall a number of times before giving it up.
More than 30 police officers were tasked with ensuring the elephant did not enter densely populated areas and cause injuries.
But this elephant has been far from being merely naughty. According to local authorities, in May, it killed a villager working on a rubber plantation who tried to scare it away, and in December it kicked and seriously injured another resident.
These incidents are just two examples of the seemingly escalating conflict between humans and wild elephants in China, with news of people being killed by the animals hitting the headlines frequently.