Global concern over Amazon fires escalates
China Daily | Updated: 2019-08-24 08:27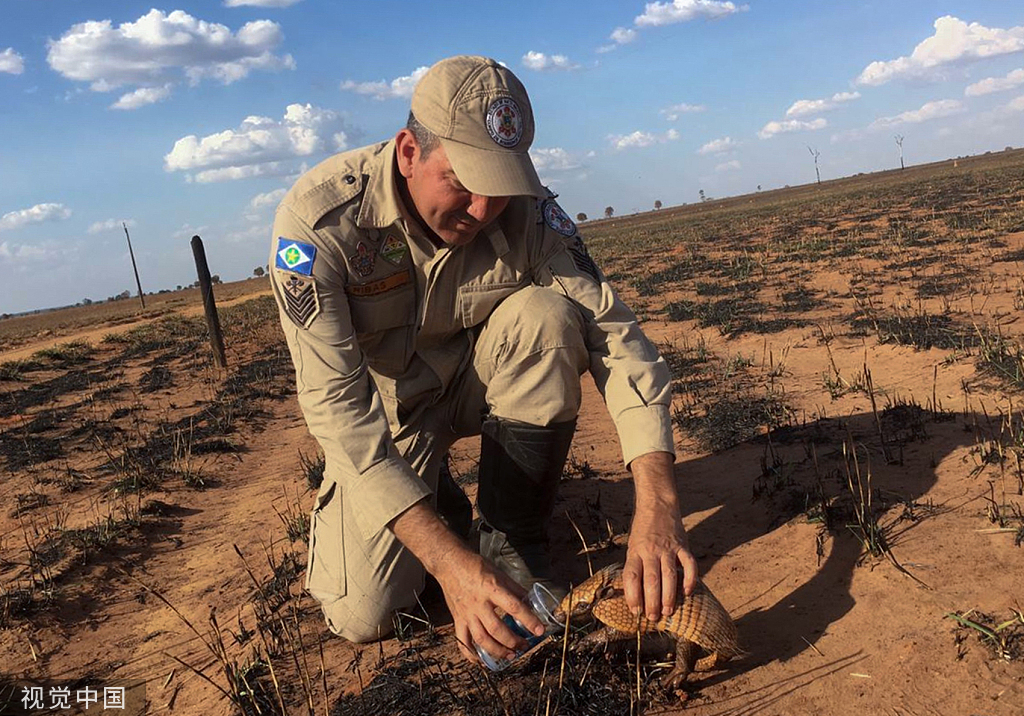 Brazil reports record number of wildfires in first 8 months of this year
BRASILIA, Brazil - Record-breaking forest fires in Brazil's Amazon rainforest are dealing a heavy blow to Brazil and have evolved into a crisis arousing international attention.
UN Secretary-General Antonio Guterres said on social media about the devastating fires that have devoured swathes of forests in the Amazon: "In the midst of the global climate crisis, we cannot afford more damage to a major source of oxygen and biodiversity. The Amazon must be protected."
Earlier this month, Brazil declared a state of emergency over the rising number of fires in the region.
The number of forest fires in Brazil increased by 82 percent from January to August in 2019 compared to the same period last year, the country's National Institute for Space Research, or Inpe, said on Monday.
According to Inpe, 71,497 forest fires were registered in the country in the first eight months of 2019, up from 39,194 in the same period in 2018.
Brazilian President Jair Bolsonaro on Wednesday blamed nongovernmental organizations for increasing wildfires in the Amazon rainforest in the country's north, but his claim was refuted by environmentalists, who argued that the surge of fires was a result of increasing deforestation and burning fueled by the government's anti-environmental policy.
This was echoed by Inpe researcher Alberto Setzer, who told local news site G1 that all the fires are the result of human activities, while some were accidental and others were intentional.
Calling the fires an international emergency, French President Emmanuel Macron on Thursday expressed his concern over the rampant fires and called for a discussion of the issue at the upcoming G7 summit.
"Our house is burning. Literally. The Amazon rainforest - the lungs which produces 20 percent of our planet's oxygen - is on fire," Macron said on social media.
Amid growing international criticism over the alarming wildfires in the Amazon, a vital bulwark against climate change, Brazilian President Bolsonaro on Thursday admitted farmers could be illegally setting the rainforest ablaze but told Western powers not to interfere.
Bolsonaro said on social media: "I regret that Macron seeks to make personal political gains in an internal matter for Brazil and other Amazonian countries. The sensationalist tone he used does nothing to solve the problem."
Bolsonaro also accused media organizations of exploiting the fires to undermine his government.
"Most of the media wants Brazil to end up like Venezuela," he said, referring to political and economic turbulence in the neighboring South American country.
Problems 'exaggerated'
Onyx Lorenzoni, the president's chief of staff, earlier in the day accused European countries of exaggerating environmental problems in Brazil in order to disrupt its commercial interests.
"There is deforestation in Brazil, yes, but not at the rate and level that they say," said Lorenzoni, Brazilian news website globo.com reported.
His allegation came after Germany and Norway, citing Brazil's apparent lack of commitment to fighting deforestation, decided to withhold more than $60 million in funds earmarked for sustainability projects in Brazilian forests.
Satellite images showed smoke from the Amazon reaching across the Latin American continent to the Atlantic coast and Sao Paulo, Brazil's biggest city, according to the World Meteorological Organization.
Federal prosecutors in Brazil's Amazon region had launched investigations of increasing deforestation, according to local media. Prosecutors said they plan to probe possible negligence by the national government in the enforcement of environmental codes.
The emergency has now transcended Brazil's borders, reaching Peruvian, Paraguayan and Bolivian regions.
The Chilean government on Thursday offered support for Brazil in the battle against the Amazon forest fires that set in more than two weeks ago. "We have the experience, we have very good technicians, professionals and forest guards, and we have to be very supportive with a country that is going through a bad moment," Chilean Minister of Agriculture Antonio Walker said.
Xinhua - Agencies