PM's bid for elections defeated before Parliament shutdown
By Jonathan Powell in London | China Daily | Updated: 2019-09-11 09:22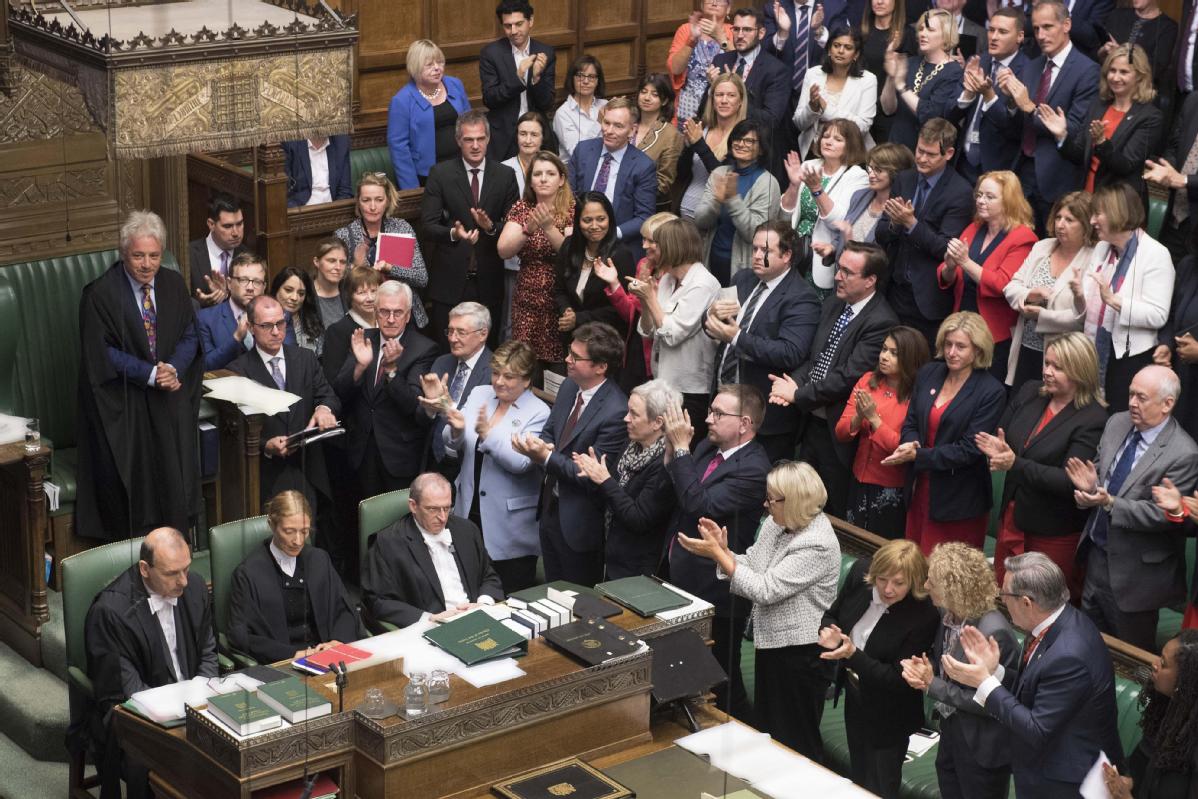 British Prime Minister Boris Johnson suffered another defeat late on Monday before the Parliament shut down for five weeks amid scenes of protests by opposition MPs.
MPs for a second time rejected his bid to hold a general election in mid-October.
Earlier in the day, with formal assent from the queen, an opposition-supported law went into effect compelling the government to ask the European Union for a three-month extension if no Brexit deal is worked out by Oct 19.
That means no poll could be held until the end of November, at the earliest.
The parliamentary session ended in acrimony as members held up signs saying "Silenced" and shouted "Shame!" as the shutdown began at about 1:30 am on Tuesday.
The Commons Speaker, John Bercow, who earlier on Monday had announced his resignation from the post, was among those to voice his opposition to the lengthy suspension. He tore into the government whip in front of MPs, saying: "It is not standard, it is one of the longest for decades, and it represents, not just in the mind of many colleagues, but huge numbers of people outside, an act of executive fiat."
Several MPs were also involved in an altercation near the speaker's chair, as they attempted to prevent Bercow leaving his seat and attending the House of Lords, the next step in the formalities required for the suspension of Parliament.
Conservative MPs condemned the behavior as disrespectful. Political party conference season is now approaching and MPs not due back in Parliament until Oct 14, when a queen's speech will spell the start of a new session, but the existing deep divisions will likely still remain.
Bercow announced that he will leave his posts as both Commons speaker and an MP within weeks, sparking a race among MPs to take over the crucial position. He told MPs he would stand aside on Oct 31.
The Guardian newspaper said the proposed timing for Bercow's departure will be seen as a passing shot at his Brexiteer critics because it could improve the chances of a remain-supporting MP succeeding him.
MPs expected to stand for the post include the deputy speakers Lindsay Hoyle and Eleanor Laing, Labour veterans Harriet Harman, Meg Hillier and Chris Bryant, and the Tory MP Henry Bellingham.
According to The Telegraph, the Labour Party is considering a plan to vote down the queen's speech when MPs convene again on Oct 21 if no Brexit deal has been found.
Opposition MPs would then table a motion of no-confidence, which, if passed, would pave the way for a general election in early December.
Meanwhile, in an attempt to outmaneuver Labour, the Liberal Democrats are making moves to cancel Brexit altogether without a second referendum when a general election is held.
The party will tell voters that if their MPs win a majority, they would revoke article 50 rather than postpone Brexit again to hold a referendum.
The move would effectively sever the chances of an alliance with Labour at a forthcoming general election. "I relish the chance to take the fight to Boris Johnson in an election and I'm confident we'd make significant gains," said Jo Swinson, who was elected as the party's first female leader in July.