Post-study work visa gives UK edge again
By WANG MINGJIE | China Daily Global | Updated: 2019-09-27 11:12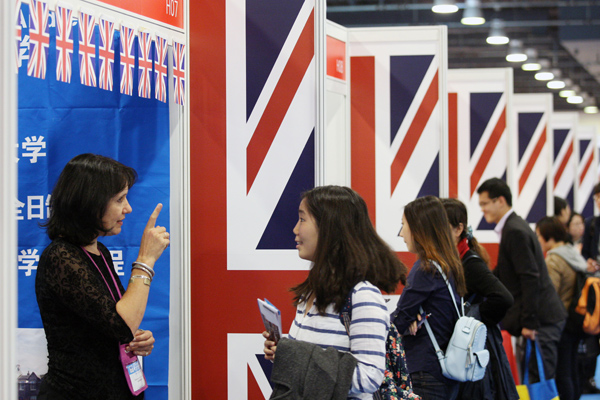 Universities across the United Kingdom have hailed the government's announcement that the two-year post-study work visa was being reintroduced for foreign graduates, though opinions of students from China, the largest source country for non-EU students in the UK, varied on the decision.
The change marked an end to a key policy made in 2012 by then-Home Secretary Theresa May. The policy required international students to leave the country within four months of completing a degree, which critics said led to an overall drop in the enrollment of international students and an outflow of UK-educated talent.
Andy Lockett, dean of Warwick Business School, welcomed the decision, saying, "The introduction of this longer post-study work visa is something universities have (been seeking) for a long time and will bring cultural and economic benefits to the UK.
"It will certainly make the UK more attractive for students, particularly if they want the opportunity to work in the UK," he added. "Although Brexit will pose challenges to overcome, the UK's universities and business schools have a world-class reputation and are key to the UK employing its soft power in a global economy."
Lockett said he believes the government's decision sends a clear message to the rest of the world that Brexit does not mean the UK is turning its back on the world. "Far from it-the country is very much open and welcoming to students from all over the world and wants to attract the brightest minds to its shores," he said.
The change will take effect for students who start courses in 2020-21 at undergraduate level or above. Under the new policy, there will be no cap on visa numbers, and graduates can apply for jobs regardless of their skills or the subjects they have studied.
As an international student who benefited from a post-study work visa before 2012, Marcia Vera-Espinoza, a lecturer of human geography at Queen Mary University of London, said she welcomed the decision to overturn the measure.
"International students and their families make great sacrifices to study their degrees in the UK, and post-study work visas recognize in part their massive contribution to the country's economy," she said.
"This measure, surely motivated by Brexit uncertainties and the UK's aim to position itself as a global outward-facing country after leaving the EU, recognizes at least on paper the massive economic contribution of international students, estimated to be more than £20.3 billion ($25 billion)," Vera-Espinoza added.
According to the Higher Education Statistics Agency, 458,490 international students were educated in the UK in 2017-18, with 319,340 coming from outside the European Union.
With the UK government's new plans to extend post-study work visas for international graduates from a few months to two years, Amelia Hadfield, head of politics at the University of Surrey, said, "There's additional scope to not only bring talented students to the UK, but to see them moving on to refine their skills in a range of jobs after graduation."
Hadfield conceded that a number of factors led to the change, one of which was that "the Home Office is working to overhaul its own image as a less-then-friendly gatekeeper to Britain after a number of plans went awry."
The number of Chinese students in the UK continued to surge even after the two-year post-study work visa had been discontinued.
Figures from the Higher Education Statistics Agency show that in 2017-18, one-third of all non-EU higher education students were from China, or a total of 106,530.The number of students from China in 2017-18 was 27 percent higher than in 2012-13.
Some Chinese students said the announcement was such good news that they might consider getting another degree in the UK.
Kuo Xuan, 23, who just completed a postgraduate degree at King's College London and is back in China, said, "The resuming of the post-study work visa actually gives me the incentive to do a second master's program in the UK, and the additional two years of working time makes a second master's degree slightly more attractive to me."
Zhang Yishu, 23, who is taking a master's course at the University of Oxford, said the new policy presents a win-win situation and makes international students feel more welcome in the UK.
"Most of the students studying in Britain want to stay and work in the UK for a few years before going back to their home country," she said.
However, Dai Jiaben, 27, who studied for a master of science in management at the University of Manchester in 2017-18, said, "Although I am unable to benefit from the policy, as it only applies to students who start courses in 2020, it still would not affect my decision of going back to seek employment."
As Dai sees it, his heart is rooted in China, which he said offers better employment prospects with the country's rapid economic growth.
"I do not think the new policy would have had any influence of my career choice," Dai said.
Zheng Luyao contributed to this story.