Motor vehicle emissions reportedly trending down
Share - WeChat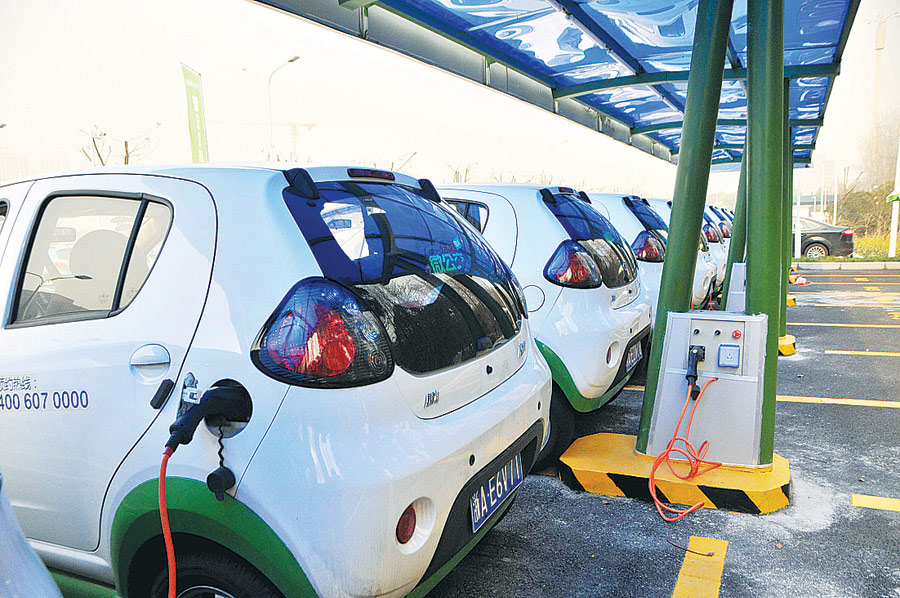 Motor vehicle emissions, a major source of air pollution in China for a decade, have been falling for six years, according to a recent report by the Ministry of Ecology and Environment.
However, experts said more action is needed to curb the number of diesel-powered vehicles being used to transport goods and ultimately encourage a switch to clean-energy vehicles.
There were 32.7 percent more vehicles on the country's roads last year than in 2013, the ministry said in an annual report released last month, but the amount of pollution emitted by vehicles fell 11.1 percent during the same period.
The report said motor vehicles discharged about 40.6 million metric tons of major pollutants in China last year, down from 45.7 million tons in 2013.
The ministry analyzed sources of PM2.5-fine particulate matter with a diameter of 2.5 micrometers or less that can invade even the smallest airways-in 15 cities in 2016 and found that motor vehicles were responsible for between 13.5 percent and 41 percent of PM2.5 concentrations in cities including Beijing, Tianjin and Shanghai.
It did not say how much the contribution was in each city, but Beijing's Ecology and Environment Department said last year that, in the capital, the contribution from vehicles reached 45 percent in 2017, surpassing that of industrial sources of pollution.
The central government has taken several steps to tackle motor vehicle emissions over the years.
It has promoted the upgrading of motor vehicle emission standards, accelerated the elimination of high-emission vehicles and encouraged the development of new-energy vehicles.
Phasing out diesel trucks has been a policy priority, with the report saying that while they only make up 7.9 percent of the vehicles on China's roads, they are responsible for 84.6 percent of the particulate matter emitted by vehicles.
By 2020, the Beijing-Tianjin-Hebei cluster and the provinces of Shanxi and Shaanxi will have eliminated 1 million diesel trucks unable to meet emission standards.
Xu Honglei, deputy head of the Transport Planning and Research Institute's environmental resources department, told China Transportation News last year that diesel trucks should not play such a big role in the transport of goods.
"The transportation structure is not reasonable," he said. "Trucks are used much more than railways just because they are cheaper.
"A number of truck operators have engaged in vicious, low-price competition. And to survive in the market, they reduced costs, overloaded goods and even used substandard diesel oil, which led to more emissions of nitrogen oxide and particulate matter."
Xu said there was an urgent short-term need to upgrade trucks to meet stricter standards, but in the longer term optimizing the use of railway transportation was the answer.
China has also been promoting the use of new-energy vehicles such as electric vehicles to win the battle against motor vehicle emissions.
The number of new-energy vehicles on the roads reached 2.16 million last year, the report said, up 70 percent year-on-year.
To promote the use of new-energy vehicles, the Hainan provincial government announced this year that the sale of gasoline or diesel-powered vehicles will be phased out on the island by 2030.
Duan Lei, an environment professor at Tsinghua University, said that while electric cars have been accepted and used more widely, clean-energy cars were the trend of the future.
"The central government has given out large amounts of subsidies for electric cars and boosted their popularity," he said.
"However, generating electricity may also produce air pollution. Clean-energy vehicles like hydrogen-powered ones may be a solution."