Stabilizing food prices a priority
By Xu Wei | China Daily | Updated: 2019-10-09 09:31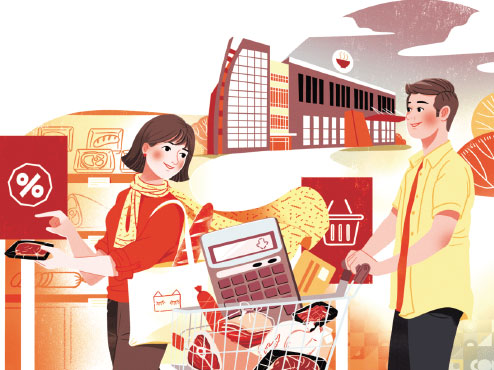 Premier says market will unleash farmers' potential, vitality
The State Council has ratcheted up measures to stabilize commodity prices, especially pork and daily necessities, with steps to bolster the monitoring and forecasting of price hikes and the issuance of early warnings.
The Cabinet said after its executive meeting on Sept 26 that it will prioritize efforts to curb unreasonable price rises for some food products and maintain steady industrial producer prices.
It underscored the importance of respecting market principles and better using market methods to keep commodity prices at a reasonable level, according to a statement released after the State Council meeting.
Food prices rose by 10 percent year-on-year in August, while the consumer price index was up 2.8 percent year-on-year, the National Bureau of Statistics said. Pork prices were up 46.7 percent, while fruit prices rose 24 percent.
The Cabinet called for local authorities to cancel unreasonable bans on pig farming and ensure the supply of animal feed in main production areas to speed up the restoration of pork production capacity. The market supply of mutton, beef and poultry meat will also be increased.
It also highlighted the importance of monitoring price fluctuations of related products and ensuring market supply during holidays.
"We need to believe in the strength of the market and widen access," Premier Li Keqiang said at the meeting.
"The vitality and potential of farmers will be duly unleashed in this process."
As China's economy faces mounting downward pressure, the authorities must attach even greater importance to the price of important commodities and ensuring basic public livelihood, Li said.
The Cabinet statement said more work will be done to monitor and analyze commodity price fluctuations in the international market and to boost regulatory control capacities to deal with rising challenges.
Ensuring the supply and stable price of natural gas this winter will also be a priority, it said.
It also called for proactive efforts to expand effective investment and to drive the development of related sectors in stabilizing production, operations and the job market.
The State Council also vowed stronger market regulation and price monitoring, saying there will be a crackdown on wrongdoing such as spreading false information and the manipulation of prices.
Local authorities must come up with temporary relief measures to ensure the living standards of poor people and key groups, the statement said, adding that temporary relief must be issued in full and on time.
The supply of meat to college, primary school and middle school canteens must also be guaranteed, it added.
China, the world's largest pork market, has been ravaged by an outbreak of African swine fever, with the country's pig herd down 38.7 percent year-on-year in August, according to data published by the Ministry of Agriculture and Rural Affairs.
Soaring pork prices drove the CPI up more than 1 percentage point, according to the NBS. China has released 30,000 metric tons of pork from its central reserves since Sept 19 in a bid to stabilize soaring pork prices, according to the Ministry of Commerce.
Zhang Bin, a senior analyst with China Finance 40 Forum, said the latest round of inflation was mainly driven by soaring food prices, especially pork.
However, he noted that the price of nonfood commodities and services had fallen year-on-year, while the manufacturing purchasing managers index had indicated contraction for months.
"It showcased the headwinds of sluggish demand and mounting deflationary pressure faced by the Chinese economy," he said.
He called on authorities to introduce measures including interest rate cuts to boost purchasing power and expand demand.
Zhang Ming, chief economist with Ping An Securities, told China News Service that experience showed sustained pork price hikes had never lasted for long.
Pork was a highly replaceable commodity and consumers could resort to other meat when prices rose too high, he said.
"Suppliers can also expand imports," Zhang said. "All these factors will enable a gradual price drop."