US, Japan ink trade agreements
By Wang Xu in Tokyo | China Daily Global | Updated: 2019-10-09 09:41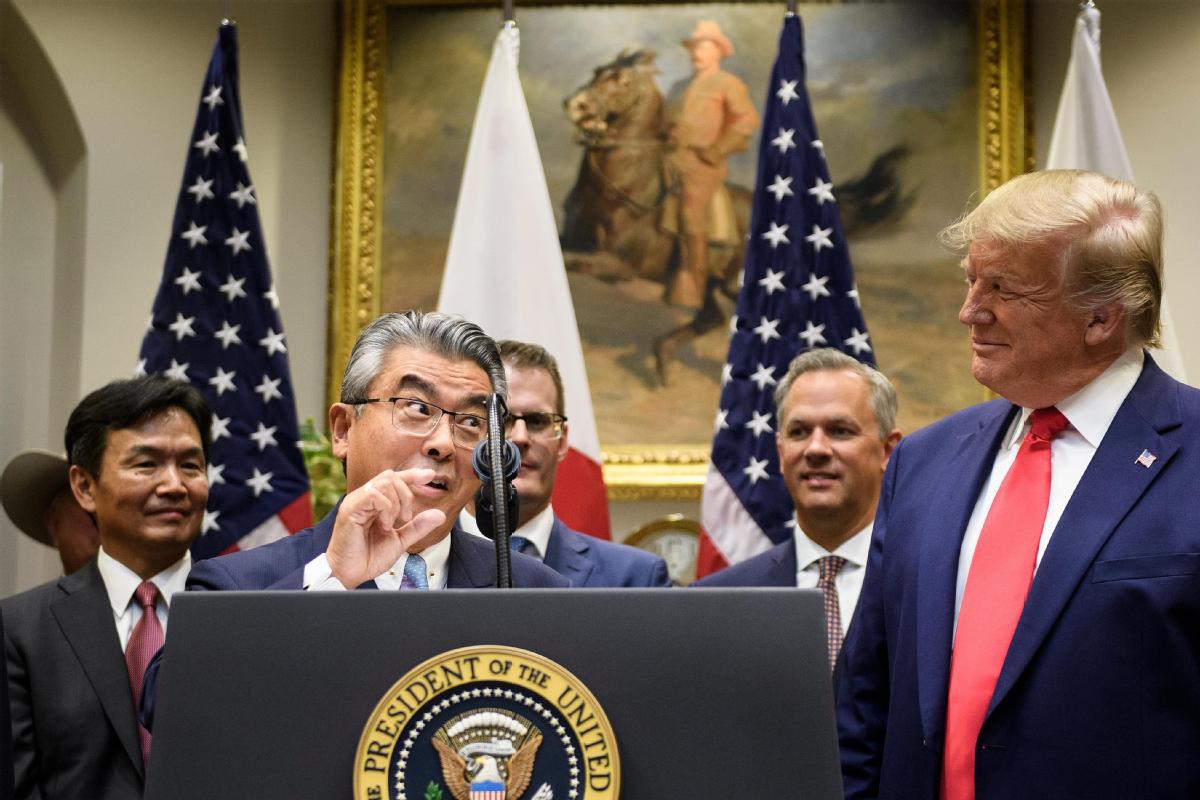 The United States and Japan signed limited trade agreements in Washington on Monday, but critics said they fell short of the wide-ranging Trans-Pacific Partnership, or TPP, trade pact the US abandoned when Donald Trump became president.
Trump oversaw the signing of the US-Japan Trade Agreement and US-Japan Digital Trade Agreement, which slashed Japanese tariffs on $7.2 billion worth of US food and agricultural imports while cutting US tariffs on $40 million in Japanese agricultural goods. It also eased quotas on Japanese beef imports.
"These two deals represent a tremendous victory," Trump said at the White House signing by Japanese Ambassador to the United States Shinsuke Sugiyama and US Trade Representative Robert Lighthizer.
"They will create countless jobs, expand investment and commerce, reduce our trade deficit very substantially, promote fairness and reciprocity, and unlock the vast opportunities for growth," Trump added.
'Better than nothing?'
Under the new agreements, roughly $4.3 billion worth of Japanese tariffs on US nuts, berries, grains, wine, cheese and other products will be eliminated while tariffs, amounting to $2.9 billion, will be reduced on US beef and pork products. But another $1.7 billion in tariffs remain on US agricultural exports.
Meanwhile, both countries will reduce barriers and tariffs on each other's digital media and software. Digital trade between the partners already amounts to an annual market of $40 billion, Trump said.
However, critics said the deals only retain a portion of the benefits from the TPP, a now 11-country fledgling trade agreement which Trump pulled the US out of during his first week in office in 2017.
"Why we'd walk away from that (TPP) in order to take this is beyond me," said US Senator Tom Carper, a Democrat from Delaware, on Bloomberg TV. "Is it better than nothing? It is. But it's not even close to the Trans-Pacific Partnership."
"We're going to have to thrash back and fight for lost market share," said Tami Overby, senior director on Asia and trade issues at the McLarty Associates consultancy, who was quoted by The Associated Press.
While this new deal is not as expansive as the TPP provisions would have been, US rice farmers might be the most disappointed because Japan's steep tariffs on rice imports remain at the level set in the 1990s.
In contrast, Japan would have accepted 70,000 metric tons of US rice per year tariff-free under the TPP, according to American Farm Bureau Federation.
Covering roughly $55 billion in trade, the two new deals accounted for about a quarter of the $218 billion in goods traded between the US and Japan, but left out Trump's threatened auto tariffs, which is the biggest source of the $67.6 billion US trade deficit with Japan.
"The deals are limited ones because they are notable for what it leaves out," said Yuzo Tanaka, a professor of economics at Ryukoku University in Kyoto, "It does not include products like autos from Japan and aircraft, liquefied propane gas and semiconductor manufacturing equipment from the United States."
"These are the products that made up the bilateral trading relationship," Tanaka added.