Rules set out to curb gaming addiction
By Cao Yin | China Daily | Updated: 2019-11-08 08:02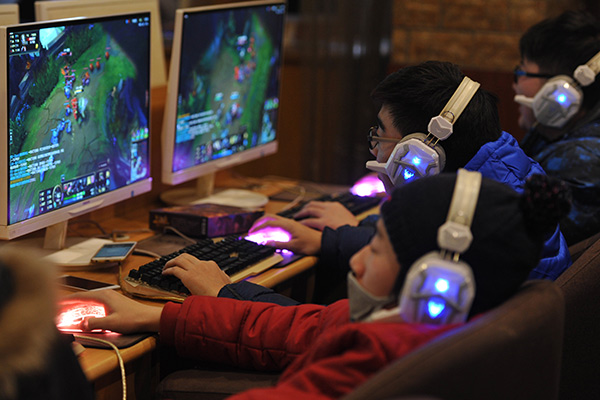 With a rising number of young people becoming online game addicts, the government has required game service providers to strictly adopt real-name registration of users and cut game service time for minors.
Industry and legal experts said such policies will be effective in preventing juveniles from becoming obsessed with online games, but the implementation needs broad support from society.
Online game providers are banned from offering services for users under the age of 18 between 10 pm and 8 am, and paid online services must not be open to users younger than 8, according to a notice released on Tuesday by the National Press and Publication Administration.
The total length of time that minors are allowed to access online games on holidays or during festivals cannot be more than three hours a day, while on other days it cannot exceed 1.5 hours, the notice said.
The amount of money minors aged 8 to 16 can spend on an online game is limited to 200 yuan ($28.7) per month, it said.
The notice also said the administration would work more closely with the Ministry of Public Security to improve ID recognition to better supervise juvenile users online.
Furthermore, stricter industry supervision will be adopted, and online game providers should set reminders for users of different age groups.
Any harmful content, such as pornography, violence or gambling, must be prohibited, the notice stated.
Companies that fail to follow the rules will be ordered to rectify problems or face punishment. Their business licenses could also be revoked if their misconduct is serious, it added.
"China has seen a rapid growth in the online gaming industry in recent years, which has enriched people's leisure but has also caused addiction and overspending among some young people," the administration said in a written explanation on the purpose of the new rule.
"These problems, which are harming the health and lives of minors, deserve more attention and should be addressed."
By the end of June, there were about 854 million Chinese netizens. About 4 percent of them were under the age of 10, and about 17 percent were aged from 10 to 19, according to the China Internet Network Information Center.
Zhao Hui, a Beijing lawyer who specializes in juvenile cases, said such a new rule is very timely as there have been some cases in which children committed offenses or were harmed because of their addiction to online games.
Last year, for example, a 13-year-old boy in Jiangsu province died after jumping from the fourth floor of a building. His parents blamed an online game for his death, according to the People's Daily website.
Zhao said the specific time limit can help regulate the online game industry and protect minors.
"The time limit can help children who struggle with self-control keep away from their computers or iPads," she said. However, this requires a joint effort from parents and online game providers, she added.
Zhu Wei, an associate law professor at China University of Political Science and Law, said making sure users are minors is key while carrying out these rules and called for related companies to give stricter reviews of their users' identities by improving technical methods.
Kong Yiying, a 3-year-old boy's mother in Guangdong province, said "parents need to put down mobile phones at home first and develop children's hobbies, such as painting, in their spare time."