Relentless Zhang grinds way to glory
Share - WeChat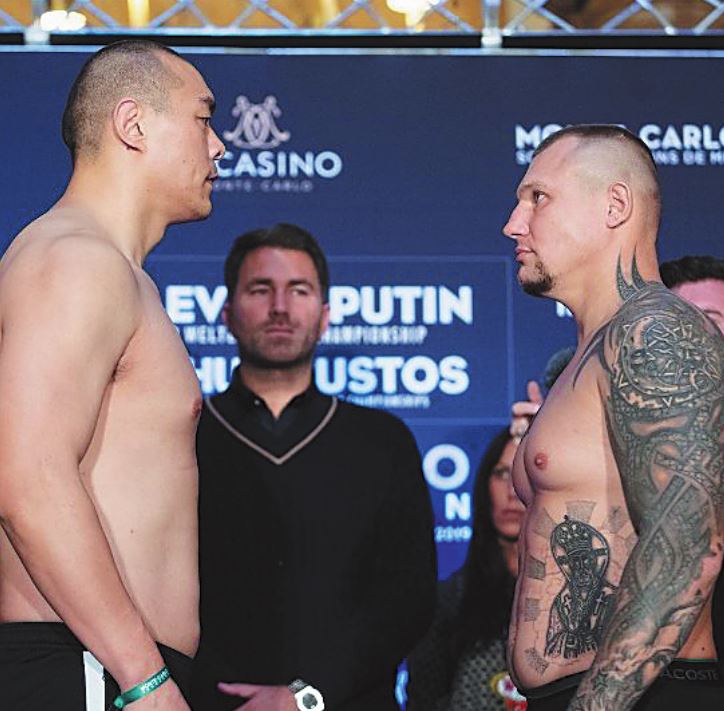 Chinese star sees off plucky Ukrainian challenger as bigger bouts now beckon
For a fighter on the comeback trail, going the distance to secure a win is often better than scoring a quick knockout.
Such was the case for Chinese heavyweight Zhang Zhilei on Saturday night in Monaco, where the 6-foot-6 southpaw from Zhoukou, Henan province, took the full 10 rounds to pound out a lopsided unanimous decision over Ukraine's Andriy Rudenko to retain the WBO Oriental title.
The 36-year-old Zhang, aka 'The Big Bang' improved to 21-0 by scores of 99-91, 98-92 and 97-93 against the durable Rudenko (32-5), who has never been stopped.
Fighting for the first time in 14 months, Zhang was cool as a cucumber in the early rounds, adroitly moving in and out of the pocket to repeatedly land left-hand power shots to the body while negating Rudenko's efforts to close the gap.
Zhang's relentless aggression kept Rudenko on his back foot for the first half of the fight, and in the fifth round the Ukrainian was sent reeling into the ropes when Zhang capped a nine-punch flurry with a solid right hook to the temple.
Going into this fight, Zhang, who won the silver medal for China at the 2008 Beijing Olympics and lost a split decision to future world champion Anthony Joshua at the 2012 London Games, had banked just 55 rounds since turning pro in 2014 and had never been past round six in any of his bouts.
He remained out of the ring for so long due in large part to visa issues that kept him from re-entering the US for nearly a year.
Zhang lives in northern New Jersey when he's preparing for fights, and in August he finally reconnected with veteran trainer Shaun George at True Warriors Boxing in Paterson, New Jersey.
"It was awful," Zhang told boxingscene.com of his time out of the ring. "I was frustrated and depressed. There were days I felt like my boxing career would come to an end. I didn't know what to do. I didn't know what my goals were. That's how frustrated I was.
"As soon as I got the notification that my US visa was approved, my family told me I looked like a totally different person on that very day. My eyes looked like those of a warrior ready to go into battle. As soon as I returned to the US, I just trained like crazy."
While some degree of ring rust was obvious when Zhang started breathing through his mouth in round seven, he still had enough fuel left in his tank to make Rudenko pay for every mistake.
The Ukrainian was backed up by a straight left to the jaw midway through the ninth, and 70 seconds into the final round Zhang wobbled him again with a crushing right hook but couldn't deliver the finish.
The 36-year-old Rudenko took this fight on barely one week's notice after Russia's Sergey Kuzmin (15-1) was forced to pull out after sustaining a foot injury during training.
While Saturday's result will go a long way toward reestablishing Zhang as a viable challenger for any of the division's multiple champions, it also underlined his need for better conditioning and more willingness to let his hand speed match his fleet feet.
On several occasions, Zhang's quick lateral movement put him in position to blast through Rudenko's lazy counters and do some serious damage, but he just wouldn't let his hands go. Not an insurmountable problem, but one that needs to be addressed sooner rather than later.
"I don't know what people will say about me after this fight," said Zhang, who is co-promoted by Jay-Z's Roc Nation Sports and Eddie Hearn's Matchroom Boxing.
"That's not something I can control. But I would like to have people say, 'Wow! This Chinese dude can really fight!' I want to impress them."