Massachusetts sues e-cigarette maker Juul
By SCOTT REEVES in New York | chinadaily.com.cn | Updated: 2020-02-14 07:27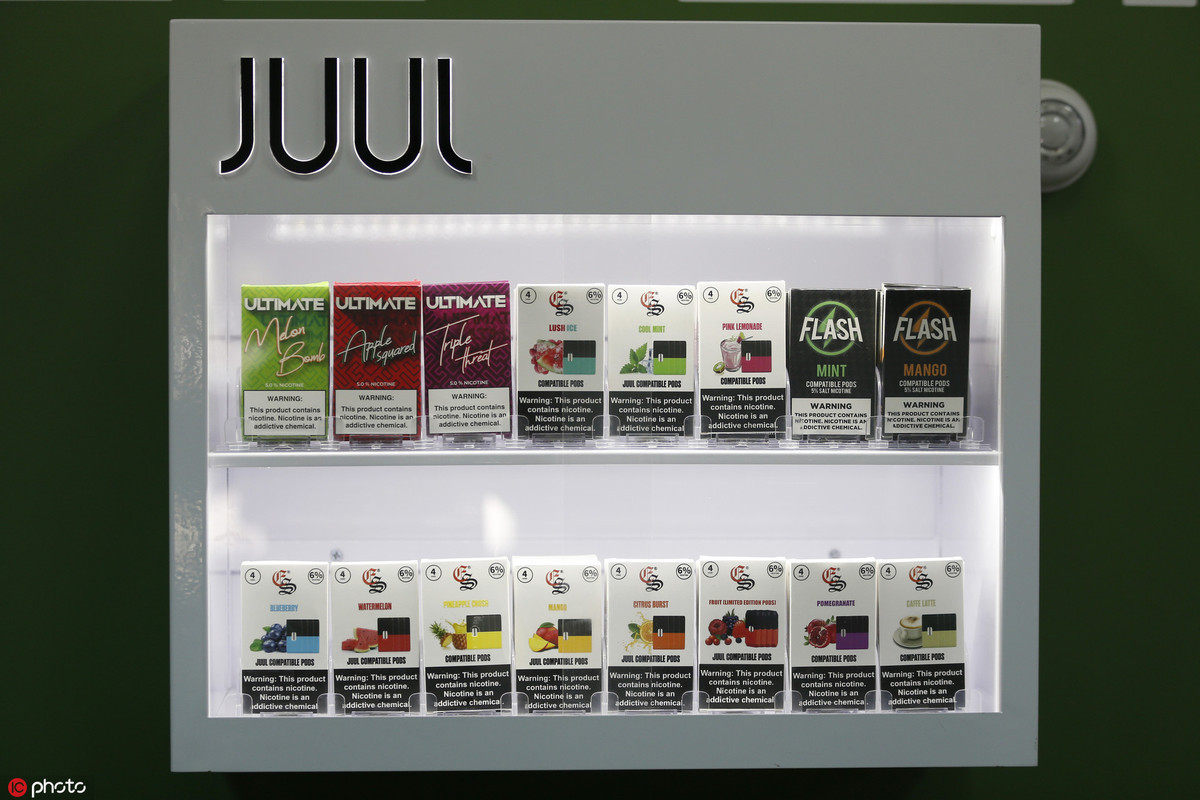 The Massachusetts attorney general has charged in a lawsuit that e-cigarette maker Juul Labs illegally targeted young people in its 2015 advertising campaign to launch the product, thereby knowingly selling nicotine products to underage youth.
The San Francisco-based company advertised on websites, mobile apps and magazines aimed at young audiences, including Instagram, Facebook, YouTube, Nickelodeon, Cartoon Network and Seventeen magazine, said Massachusetts Attorney General Maura Healey in the lawsuit filed Wednesday.
"Juul is responsible for millions of young people nationwide who are addicted to e-cigarettes, reversing decades of progress in combatting underage tobacco and nicotine use," Healey said in a statement. "We are going to make them pay for the public health crisis they caused in Massachusetts."
Juul didn't respond to a request by China Daily for comment, but in an email to The New York Times and CNN, a company spokesman said: "While we have not yet reviewed the complaint, we remain focused on resetting the vapor category in the US and earning the trust of society by working cooperatively with attorneys general, regulators, public health officials and other stakeholders to combat the underage use and transition adult smokers from combustible cigarettes."
The 66-page lawsuit, filed in Massachusetts state court, seeks restitution for costs incurred in "abating the nuisance of nicotine addiction" as well as unspecified damages and penalties for actions the state believes created a "public nuisance".
California, Illinois, New York and Pennsylvania have filed similar lawsuits against Juul. But the Massachusetts suit is the first to base its lawsuit on company documents discussing advertising strategy, Healey said.
Citing internal documents, the lawsuit alleges that Juul's initial marketing tagline — "vaporized" — was intended to appeal to the "cool crowd" by portraying its e-cigarettes as a "cutting-edge tech lifestyle product that advances (the user's) image".
The company attempted to recruit celebrities and fashion bloggers with a large number of underage social media followers and gave out hundreds of free e-cigarettes to "influencers" to promote the Juul brand, the lawsuit alleges.
Juul allegedly promoted sweet flavors such as mango, crème brulee, coco mint and cool cucumber, but often didn't mention that nicotine is an addictive chemical, the lawsuit said. But Juul's website clearly states on top, "WARNING: This product contains nicotine. Nicotine is an addictive chemical."
In addition, Healey said Juul failed to block underage people from purchasing its products. She said that 80 percent of those on the company's email list had not been age verified.
In a statement, Dr Jonathan Winickoff, director of pediatric research at the Tobacco Research and Treatment Center at Massachusetts General Hospital and a Harvard Medical School professor, said: "Studies show these products impact brain development, contain cancer-causing chemicals and can alter the brain to potentiate addiction to combusted tobacco and other drugs. This action will help pediatricians treat the tens of thousands of adolescents in Massachusetts who are now addicted to Juul and similar products."
Through Feb 4, some 2,758 people have been hospitalized in all 50 states for vaping-related lung injuries, and 64 people have died, according to the US Centers for Disease Control and Prevention (CDC).
The CDC said many of the injuries from e-cigarettes appear to be related to vitamin E acetate, an additive often used as a thickener in illicit THC-infused cartridges, rather than a danger inherent in commercial vaping products. THC is the psychoactive ingredient in marijuana that gives users an intoxicating high, or buzz.