Our role in the coronavirus outbreak
By Zamir Ahmed Awan | chinadaily.com.cn | Updated: 2020-02-14 14:06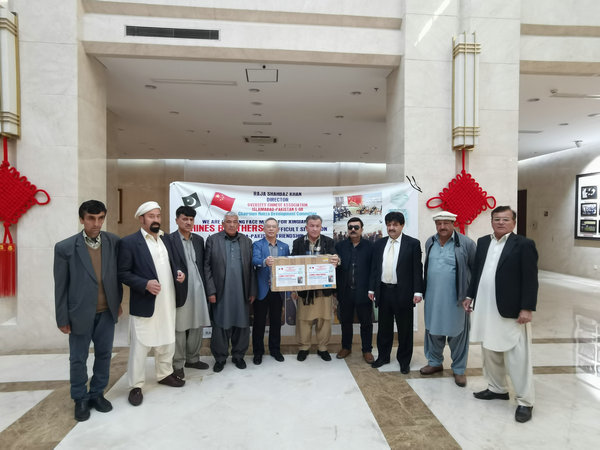 China and Pakistan, known as "Iron Brothers", have a very special relationship. The two countries enjoy harmony and understanding on all issues, whether national, regional or international. They have stood with each other in all difficult moments. China has helped Pakistan greatly, whether during an earthquake in 2005 or a devastating flood in 2010. Pakistan also shown its generosity during the Wenchuan earthquake in 2008 in China.
Currently, the novel coronavirus pneumonia outbreak is a major natural disaster in China, and Pakistan has not let China feel alone. The Pakistani government and well as the people of Pakistan have stood with China and demonstrated comprehensive solidarity.
The senate of Pakistan passed a strong resolution in favor of China and reaffirmed its full support to China in this moment of difficulty. Pakistan has donated medical materials and dispatched medical teams to work with Chinese brothers and sisters hand in hand to overcome the epidemic.
Pakistan is the first country to resume its flights with China just after the suspension of only three days. On the political front this sends a strong message that Pakistan stands with China under all circumstances. Although China and Pakistan are working under close coordination to control the spread of the coronavirus and keep monitoring the passengers for the incubation period, upon complete satisfaction and clearance, the passengers are allowed to travel. Airports in China and Pakistan are working in close liaison to monitor the passengers and screen them properly. But this gesture has signaled to the international community that they should not cut off ties with China or isolate China, but extend their all possible cooperation and join hands to fight against the coronavirus.
There is a huge community of more than 30,0000 Pakistani students. Some of them are working with the Chinese as volunteers. In particular, one of the graduates from a Chinese institution, Doctor Usman, has traveled to Wuhan to serve with the Chinese medical teams. His sincerity and love for China are admired in both countries. In fact, he is a role model for many others to be followed.
Pakistani nationals are safe in China and the Chinese government is looking after them in a very special manner. The government of Pakistan is thankful to the Chinese government for special treatment and protection provided to Pakistani nationals. Pakistan's government has decided not to evacuate its nationals from China, indicating full trust in the Chinese government's capabilities. Actually, the Chinese government is taking all possible measures to overcome the epidemic and we believe that China will overcome soon.
Media has played a very constructive role at this crucial moment. In Pakistan, there is no panic and no Sinophobia, while in the Western world, there is panic and Sinophobia. The West has overreacted and shown bias against China. The Pakistani media has projected the real situation with a positive sense and educated the masses with preventive measures. There is no need to hate or discriminate.
We believe that it is a natural disaster like any other earthquake, fire, volcano or flood. Such epidemic outbreaks have also been witnessed in recent history, such as Ebola, SARS and MERS. Previous epidemics have also claimed human lives and after some time were suppressed or eliminated. China is working hard to address all concerns regarding the coronavirus. China has been fully utilizing all resources -- human, financial or technical, and scientific -- to overcome it.
Our role is to trust Chinese capabilities and their sincere efforts, and, if possible, extend a helping hand. Or at least, we should not criticize China, discriminate against Chinese or underestimate Chinese capabilities. We must avoid fake news and negative propaganda. If possible we should extend moral and political support, in addition to material support in the form of medical supplies, and medical staff and doctors. The developed nations may extend scientific assistance and help in developing a suitable vaccine.
The outbreak of the coronavirus has been declared a global threat by the World Health Organization (WHO). The international community must join hands to fight against the coronavirus globally. Humanity is at stake. All human beings have a responsibility, and should share in their part of the contribution. Trust that our collective efforts will achieve our goals of saving humanity soon.
The author is a Sinologist (ex-diplomat) and nonresident fellow of the Center for China and Globalization, National University of Sciences and Technology, Islamabad, Pakistan.
The opinions expressed here are those of the writer and do not necessarily represent the views of China Daily and China Daily website.