Dortmund, Sancho see off Paderborn 6-1 in Bundesliga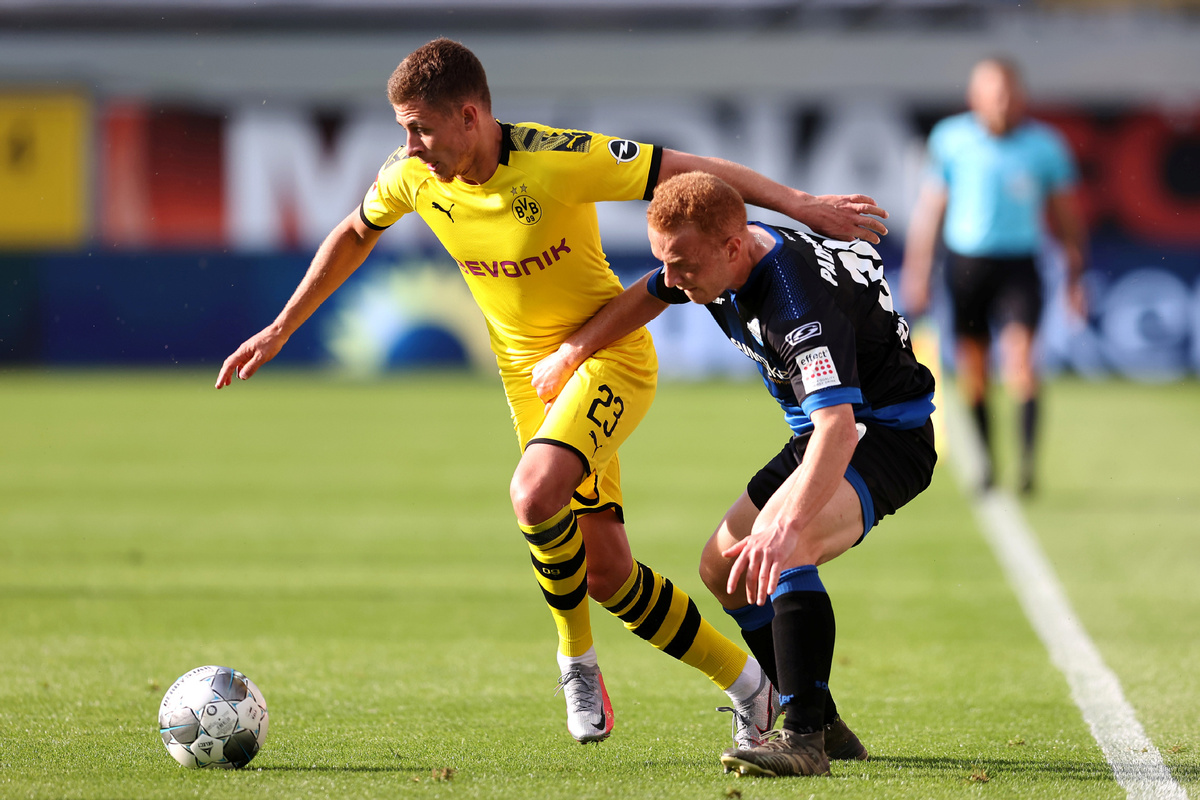 BERLIN -- Second-placed Borussia Dortmund recovered from last week's defeat to leaders Bayern and returned to winning ways after trashing bottom side Paderborn 6-1 in the 29th round of the Bundesliga on Sunday.
After a goalless first half the "BVB" turned up and scored six second-half goals, including a hat rick from Jadon Sancho, to take all three points from Paderborn.
Lucien Favre's men gained the upper hand from the kick-off and pinned the visitors on the back foot.
Paderborn presented a well-positioned defence but were able to produce promising chances as Christopher Antwi-Adjei unleashed two dangerous shots on target in the opening period.
Dortmund overcame Paderborn's defence for the first time in the 17th minute when Thorgan Hazard tested Paderborn goalkeeper Leopold Zingerle before Raphael Guerreiro's effort from 12 meters was blocked by Jamilu Collins at the half hour mark.
Both sides continued to exchange attacks but for all that, they failed to break the deadlock before half time.
After the break, Paderborn came out looking lively into the second half but neither Dennis Srebeny nor Antwi-Adjei could tap home Gerrti Holtmann's promising square pass to the far post.
Dortmund cut a better figure in front of goal in the 54th minute as Hazard capitalized on a rebound to poke home the opener from very close range.
Three minutes later, Sancho got his name on the scoresheet as well after Julian Brandt's through ball found the England international at the far post.
Paderborn kept fighting and reduced the arrears out of the blue as Uwe Hunemeier converted a penalty to make it 2-1 with 72 minutes played.
It was short-lived joy for Paderborn as Dortmund remained unimpressed and responded well through Sancho, who netted his brace with a left footed from 13 meters out.
The "BVB" continued on the front foot and extended the lead to 4-1 as Achraf Hakimi benefitted on Marcel Schmelzer's build-up work in the 85th minute.
Even though Dortmund had already caused enough damage, they were not done with the scoring as Schmelzer tapped home Axel Witsel's cross into the box before Sancho snatched his hat trick after finishing off a counter attack in the dying seconds of the game.
"We made Paderborn tired and we knew that they couldn't hold the pace over 90 minutes," Dortmund's head coach Lucien Favre said.
With the result, Dortmund stay in second place with a seven-point gap to front-runners Bayern. Meanwhile, last placed Paderborn sit nine points away from safety.
Elsewhere, Borussia Monchengladbach inflicted Union Berlin with their 16th defeat of the season after Marcus Thuram netted a brace in the 4-1 win.
On Monday, Leipzig clash with newly promoted Cologne to conclude the 29th round of competition.