Charges upgraded for Floyd death
By HENG WEILI in New York | China Daily Global | Updated: 2020-06-04 11:56
A fired Minneapolis police officer will face a more serious murder charge while three other former officers will be charged with aiding and abetting in the death of an unarmed black man, which has led to nationwide protests for more than week.
George Floyd, 46, died after Derek Chauvin, a white policeman, knelt on his neck for nearly nine minutes on May 25 in Minneapolis, Minnesota.
Minnesota Attorney General Keith Ellison announced Wednesday that Chauvin, 44, would be charged with second-degree murder in addition to the third-degree murder and second-degree manslaughter charges placed against him last week.
The new charge can carry a sentence of up to 40 years, 15 years longer than the maximum sentence for third-degree murder.
Ellison said that arrest warrants have been issued for the other three fired officers involved in the incident — Thomas Lane, J. Alexander Kueng and Tou Thao.
Ellisonhas requested that bail be set at $1 million for each of the four former officers, the documents showed.
"This is a significant step forward on the road to justice, and we are gratified that this important action was brought before George Floyd's body was laid to rest," Benjamin Crump, attorney for the Floyd family, said in a statement.
Former president Barack Obama, speaking during an online town hall Wednesday about the repercussions of the Floyd case, said that it was "unlike anything I have seen in my lifetime" and that it offered an opportunity to restrict police violence and cause a political "awakening".
On Tuesday, tens of thousands of people defied curfews and took to the streets of cities coast to coast for an eighth night of protests.
The CBS Evening News reported Wednesday that there have been more than 13,500 arrests related to protests in 43 cities.
Public officials across the nation have labored to balance accommodating the protests while keeping order when the demonstrations turn violent.
More than 3,000 protesters have been arrested in Los Angeles County, police said.
In the city of Los Angeles alone, officers arrested about 2,700 protesters since Friday, Los Angeles Police Chief Michel Moore said Tuesday. In Santa Monica, which saw heavy looting of stores, police made more than 400 arrests, according to the police chief, and in Long Beach, 73 were arrested.
Arrests from the protests apparently numbered enough in Los Angeles that police used the Jackie Robinson baseball stadium at the University of California, Los Angeles, to process those in custody, according to The Guardian.
University professors and staff wrote a letter to the chancellor and provost objecting to police using the stadium.
A four-sport athlete at UCLA, Robinson was the first African American player in major league baseball, breaking the color barrier in 1947 with the Brooklyn Dodgers.
"As UCLA faculty, we refuse to allow our university to serve as a police outpost at this moment of national uprising and at any other time," the letter reads.
Speaking at a news conference Wednesday, New York Governor Andrew Cuomo said: "New York City last night was much better. The protesters were mainly peaceful; the police officers had the resources and the capacity to do their job."
The day before, Cuomo had criticized city Mayor Bill de Blasio and the New York Police Department for their response to two consecutive nights of looting of stores and businesses in Manhattan and the Bronx. Cuomo's prior comments drew an angry response from NYPD brass.
The mayor of Brockton, Massachusetts, about 25 miles south of Boston, on Wednesday condemned a violent protest Tuesday night that followed a peaceful one.
"Last night the people that came here to create mayhem was in no manner what Brockton is about," Mayor Robert Sullivan said. "We're going to collaborate and make sure that peace is the mission, peace, not violence."
A Dunkin' Donuts shop was set on fire, and its windows smashed. Other businesses were damaged, as well as the courthouse.
"It was very troubling last night to see my officers and see my brother officers in the State Police be struck with rocks and fireworks and frozen water bottles and other debris," Brockton Police Chief Manny Gomes said.
US President Donald Trump has said justice must be done in Floyd's case but also touted a hard line on violent protests, threatening to use the military to end the chaos. Former vice-president Joe Biden, his likely Democratic opponent in the Nov 3 election, has vowed to heal the racial divide.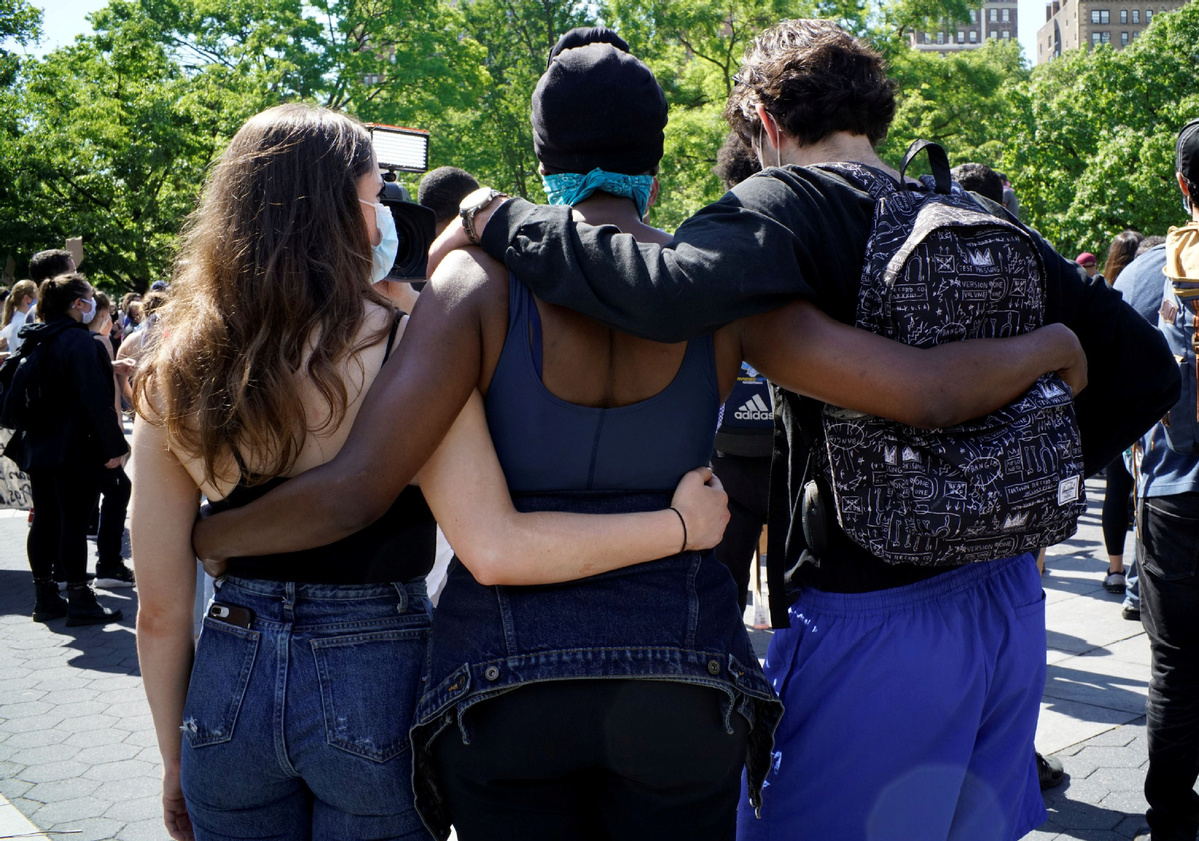 In Seattle, Washington, organizers said 7,000 people participated in protests on Monday. The protests were peaceful for most of the day until about 9 pm, when police used flash bangs and tear gas in Seattle's Capitol Hill neighborhood.
Police said protesters threw "rocks, bottles and fireworks at officers" and tried to breach barricades one block from the east precinct.
Before the protests on Monday, curfews were announced in several cities, after multiple businesses on the Puget Sound were damaged over the weekend.
Seattle announced a 6 pm-5 am curfew Monday after people smashed downtown storefronts and stole items from many businesses, tossing mannequins into the street. Ninety businesses in the city's International District were affected, according to authorities, and 57 people were arrested Saturday.
On Sunday, there was looting in stores and shopping malls in Bellevue, Spokane, Tukwila and Renton. Police in Tukwila said on Twitter that people were targeting large chain stores around the Westfield South Center Mall.
Washington Governor Jay Inslee has sent 400 National Guard troops to help Seattle contain violent demonstrations.
"We must not let these illegal and dangerous actions detract from the anger so many feel at the deep injustice laid so ugly and bare by the death of George Floyd," Inslee said in a statement Sunday. "But we also will not turn away from our responsibility to protect the residents of our state."
Linda Deng in Seattle and Reuters contributed to this story.