Competition revs up in autonomous driving sector
By Ma Si | China Daily | Updated: 2020-06-30 07:06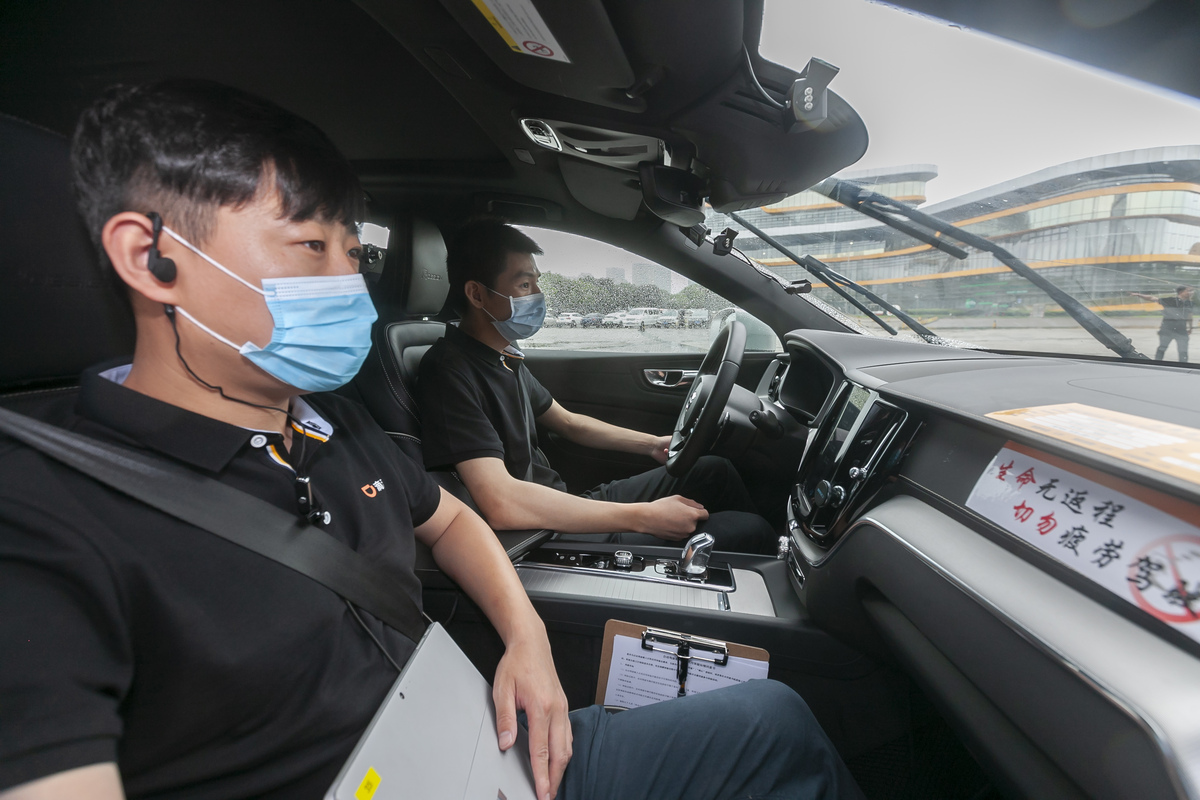 Amid light rain in Shanghai, a car automatically stopped at a designated point for pickup and waited for a passenger to get in. After the passenger fastened his or her seat belt, the self-driving car began its journey.
It automatically avoided pedestrians, speeded up, slowed down, overtook other cars and navigated traffic lights till it reached its destination.
This scene is becoming increasingly common in Shanghai after Didi Chuxing announced on Saturday the opening of its on-demand robo-taxi service to passengers in parts of the city, as the Chinese ride-hailing company steps up the commercialization of self-driving technologies.
Didi said that, after signing up on its mobile app, passengers can request rides for free in autonomous vehicles within a designated area in Shanghai covering an automobile exhibition center, business districts, subway stations and hotels in the downtown area.
To ensure safety, Didi said a backup driver will be present in each of the self-driving cars in case of emergency. The company has also set up a safety control center for autonomous driving, which can monitor vehicles and road conditions in real time, and give timely assistance and instructions to vehicles in need.
Zhang Bo, chief technology officer of Didi and CEO of its autonomous driving business unit, said, "Autonomous driving needs to move beyond being a novel but limited experience to become a reliable and efficient daily mobility option for the general public in a highly complex real-world environment."
The move came shortly after Didi signed a strategic partnership deal with major Chinese carmaker BAIC Group to co-develop customized driverless cars featuring Level 4 autonomy. Level 4 autonomy means the car can drive itself in many conditions without a human driver.
Since the start of this year, competition has intensified in China's autonomous driving industry. A string of players are showcasing their technological prowess and ambitions by offering robo-taxi services.
Baidu, which is known for its Apollo self-driving platform, opened in April its self-driving taxi service in Changsha, Hunan province. The service provides free rides to passengers across an area of 130 square kilometers, with its routes including residential areas, commercial zones and industrial parks.
Autonomous driving startup WeRide also announced that its robo-taxi service became available on Alibaba's navigation platform Amap starting from June 23 in designated areas of Guangzhou, capital of Guangdong province.
Li Zhenyu, corporate vice-president of Baidu and general manager of its intelligent driving group, said the smart transportation sector is expected to witness explosive growth as China speeds up the construction of new infrastructure, such as 5G networks and data centers.
But it may take a long time to achieve large-scale commercialization of autonomous cars.
Cheng Wei, CEO and founder of Didi, said it will take at least a decade of continued investment before self-driving technology passes critical technology, business and regulatory milestones.
China's smart transportation industry is forecast to reach a total value of 170 billion yuan ($24 billion) in 2020, according to research from Shenzhen-based market research company Askci Consulting Co.
Xie Zhicai, chief automobile analyst at Huatai Securities, said China's smart transportation industry is entering a strategic opportunity stage, thanks to favorable policies, strong financial support and technological advancements.