Moving toward a greener future with solar power
Share - WeChat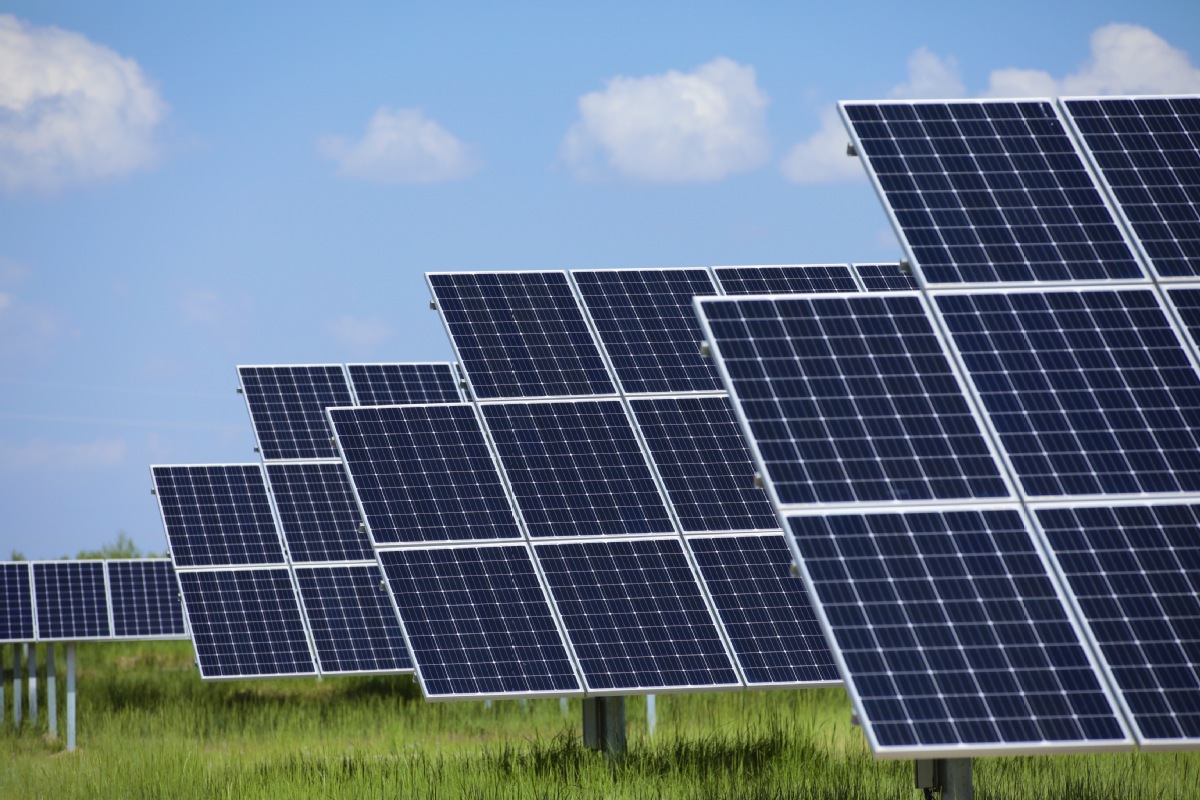 Editor's Note: Energy drives economic development and helps improve people's lives, but extracting fossil fuels and generating electricity also cause environmental pollution. So China has pledged to phase out coal-fired power plants while increasing the use of clean energy. In the fourth of a series of commentaries, a veteran journalist with China Daily focuses on the solar power industry's development.
The development of the solar photovoltaic industry over the past two decades provided China with increasing amount of clean energy and, as expected, greatly reduced its carbon emissions. What was unexpected, however, is the way it helped China control desertification and reduce poverty.
When China decided to promote the solar PV industry 20 years ago, one of the most important questions was where to build bases for the solar panels. Despite its 9.6 million square kilometers of land area, China has always faced a shortage of cultivable land-it has been feeding nearly 20 percent of the world's population with just 7 percent of the cultivable land. So farmlands couldn't be turned into solar panel bases.
Some bases could be set up on mountain slopes, but that would mean cutting down trees, which was out of the question given that China was spending billions of yuan every year to plant trees to increase green cover and improve the environment.
So the authorities decided to set up solar PV panel bases in deserts. China has eight deserts, some bigger than the size of Great Britain. It was then that an entrepreneur from Kubuqi, Inner Mongolia autonomous region, visited the planners and offered to provide space for such a base in the desert. The entrepreneur and his company, Yili Group, had spent billions of yuan and many years in fighting desertification.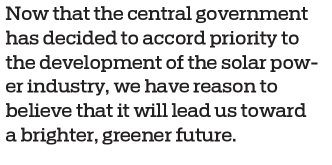 When I visited the solar PV base in Kubuqi three years ago, I was amazed by its size-as far as one could see, the desert was covered with thousands of solar PV panels. I was told that the base covers nearly 7,000 hectares and has an annual generating capacity of 900 million kilowatthours.
Apart from helping generate electricity, the panels performed another miracle. In a couple of years since the setting up of the base, plants and grass began to grow between and under the panels. To prevent the grass from growing too tall, the managers raised flocks of ducks, which fed on certain types of grasses. And soon after the generators began producing electricity, Yili Group announced the desert area covered by the panels had turned green. As for the ducks and their eggs, they came as a bonus.
The Kubuqi model has since been introduced in other Gobi areas.
While large-scale solar PV bases have been built in deserts and other remote areas, usable spaces in villages, too, have caught the authority's attention.
Also, the central government and the power companies combined solar energy development with the national poverty alleviation campaign. Under this model, only rural families below the poverty line could apply to install solar PV panels on their roofs and yards, with the power companies bearing the cost of installing the panels with the help of government subsidies. This alone could earn a family 7,000-8,000 yuan ($1,080-1,235) a year by selling power, a healthy income, given the poverty line in rural areas then was less than 4,000 yuan per person per year.
As many as 1.7 million poor families in more than 30,000 villages have benefited from this arrangement. After decades of efforts, China succeeded in eradicating absolute poverty at the end of last year. As such, "poverty alleviation by developing the photovoltaic industry" has now been accepted as an innovative model for alleviating poverty.
By combining its efforts to develop the solar PV sector with measures to control desertification and alleviate poverty, China not only succeeded in eliminating abject poverty in those areas but also boosted the solar panel industry. China is now a global leader in solar PV development, accounting for more than 70 percent of the world's solar PV equipment market.
China is giving incentives to encourage solar power generation. It also encourages market competition, so as to accelerate the development of relevant technologies and reduce costs. And as the solar power industry grows in size, its cost has been reducing.
Now that the central government has decided to accord priority to the development of the solar power industry, we have reason to believe that it will lead us toward a brighter, greener future.

The author is former deputy editor-in-chief of China Daily. kangbing@chinadaily.com.cn
If you have a specific expertise, or would like to share your thought about our stories, then send us your writings at opinion@chinadaily.com.cn, and comment@chinadaily.com.cn.
Most Viewed in 24 Hours
China Views