Sinovac kicks off trial on the young in South Africa
By NDUMISO MLILO in Johannesburg, South Africa | China Daily Global | Updated: 2021-09-13 10:19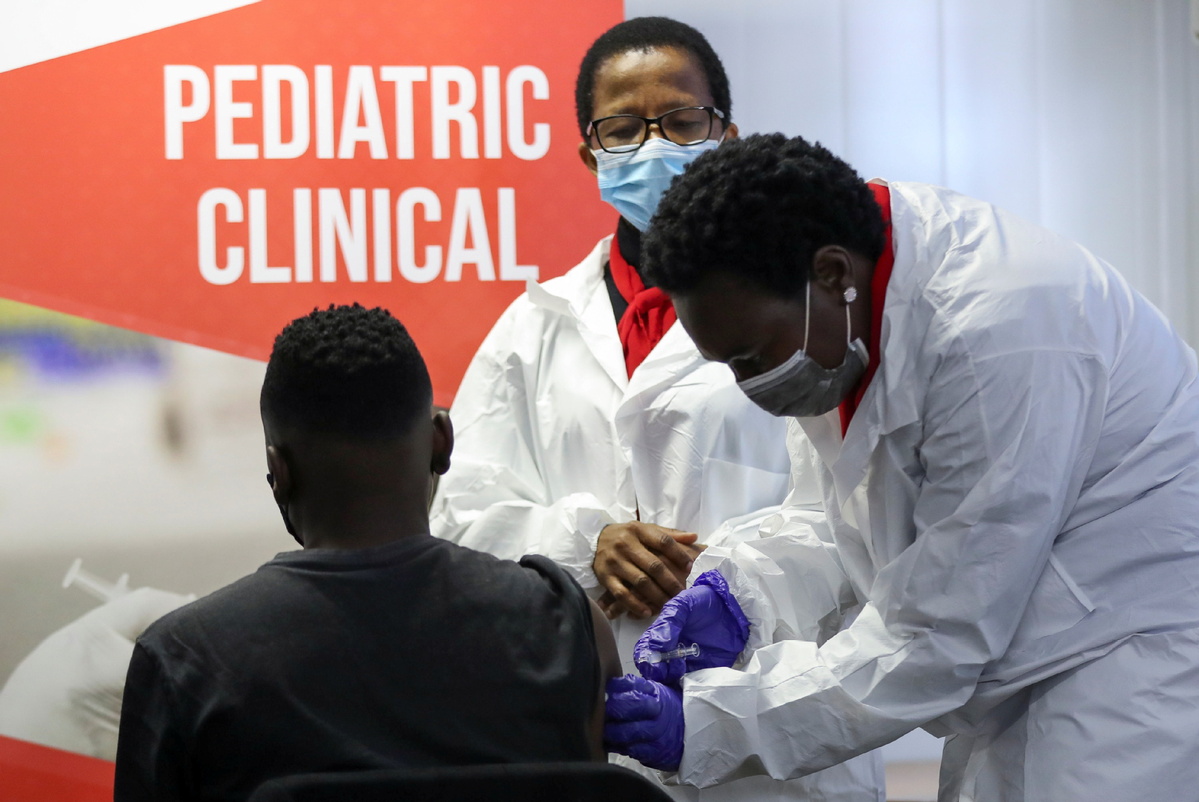 A Chinese COVID-19 vaccine has been put into phase III trial on children between the ages of six months and 17 in South Africa, which could result in adolescents in the country receiving inoculations against the virus.
The beginning of a trial of Sinovac's Coronavac in Pretoria on Friday will be carried out for more than a year with 2,000 volunteers enrolled, and may open the door for those under 18 to be vaccinated, Sinovac and its South African partner Numolux Group said.
In South Africa vaccination against COVID-19 is allowed only for those aged 18 or above.
Sanet Aspinall, Numolux project director and principal coordinator for the study in South Africa, said children had been left out of vaccination programs, and this trial would correct that. Many children in China and Singapore had received the Sinovac vaccine with no serious adverse effects, Aspinall said.
Safe, effective
"We want this vaccine tested and made available to the children of South Africa and the world. Coronavac is a safe vaccine. The vaccine has been tested in phase III trials in adults in Brazil, Chile, Indonesia and the Philippines. It has been shown to be very effective in these studies."
The trial, to be carried out in various provinces, had earlier received the go-ahead from the South African Health Products Regulatory Authority.
At the trial launch on Friday media and attendants witnessed two children aged between 11 and 17 receiving the Sinovac vaccine.
The Sinovac director for clinical research Zeng Gang, speaking from China through video, said the trial was part of China's collaboration with South Africa in its "war against COVID-19".
"Since the outbreak of COVID-19 we have been cooperating with our South African partners. We have started the vaccination of children with Sinovac in China and hope this can protect South African children against this disease."
In the trial, the performance of two doses of the vaccine will be tested, with efficacy against being admitted to hospital and developing severe COVID-19 symptoms being analyzed.
The director for health research at the national department of health, Tshilidzi Muthivhi, hailed the trial as a boost in the government's fight against COVID-19. Given that minors were involved in the trial, extreme caution would be taken in conducting it, he said.
Glenda Gray, chief executive of the South African Medical Research Council, said having children involved in trials of vaccine represented a "delayed victory" for them.
In the phase III global trial of the Sinovac vaccine about 14,000 volunteers will be recruited in Chile, Kenya, Malaysia, the Philippines and South Africa. South Africa's neighbor Zimbabwe is vaccinating those aged 14 and above against COVID-19.
The writer is a freelance journalist for China Daily.