Universal Beijing Resort tickets for holiday sell out
By DU JUAN | China Daily | Updated: 2021-09-15 07:11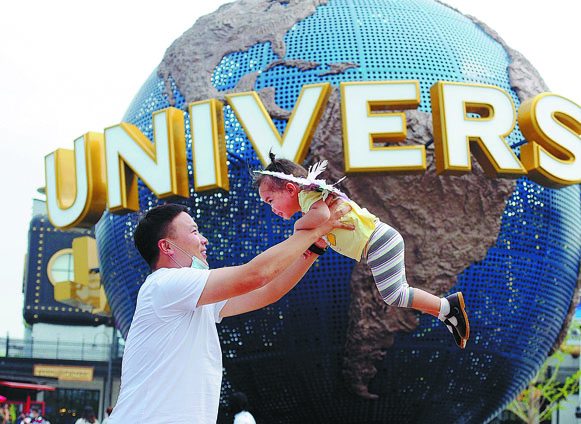 Tickets for the Universal Beijing Resort sold out within 30 minutes in the early hours of Tuesday morning for visits to the new theme park during the upcoming Mid-Autumn Festival holiday on Monday and Tuesday, the first two days it is open to the public.
The long-awaited opening of the resort, which involves an investment of more than 40 billion yuan ($6.2 billion), has been gathering increasing attention since last month, when the timetable was announced for its trial operation, as well as ticket prices and its opening date.
Enthusiasm for the resort peaked at midnight on Tuesday when tickets went on sale online and the two hotels in the resort started to receive reservations. Many people encountered an internet traffic jam as they attempted to buy tickets.
Dong Xiaobin, a 42-year-old film fan, said he had been looking forward to the opening of the theme park ever since plans for it were announced several years ago.
"At 1 am on Tuesday, I tried to purchase tickets to visit on Monday with my family, but the website was too busy," Dong said.
In fact, Dong was already half-an-hour too late, as tickets for visits on Monday and Tuesday had been snapped up within 30 minutes of going on sale.
"The tickets vanished like vapor on the resort's own app and at authorized tourist agencies," said Dong, who now plans to take his family to the theme park on another day.
According to Qunar, an online travel service provider, searches for hotels near the resort increased more than sevenfold by 12:30 am on Tuesday.
Bookings for flights to Beijing on days near the opening increased by more than 200 percent in the past week compared with the previous week, according to data from Fliggy, Alibaba Group's online travel booking platform.
Song Yu, chairman of Beijing Tourism Group, which is one of the major investors in the theme park, said that it showcased Sino-US cooperation, especially in the private and business sectors.
"The idea of building the theme park in Beijing was first raised 20 years ago. We have built a deep trust between our group and our US partner Universal Parks &Resorts," Song said.
"Cooperation has been smooth and productive. The US side has advantages in innovation and creativity, while our group knows the local market very well."
Andrew Eitingon, deputy general manager of Beijing International Resort Co, the joint venture that owns the venue, said China is one of the most rapidly growing markets globally and the resort has received strong support from the central government and the Beijing authorities throughout the entire project.