Generating a green power leap
Share - WeChat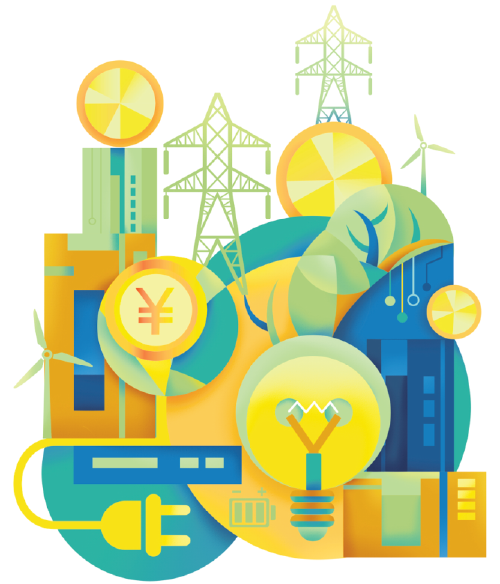 The launch of a pilot program for green power trading on Sept 7 marks a big move toward a business-driven green power market in China. Companies in 17 provinces are participating in the program.
In line with the global trend to decarbonize economies and the country's goals of peaking carbon emissions before 2030 and reaching carbon neutrality before 2060, the program opens new prospects and opportunities for the business world to play a role in transforming the energy production and consumption system.
According to the International Energy Agency, corporate power consumption accounts for 71.5 percent of the world's total. Therefore, by purchasing and consuming green power, companies can make a big difference in realizing the clean energy transition. Almost half of the Fortune 500 companies have already announced their climate and corporate green power consumption goals. Some leading companies, such as Apple and Microsoft, have even extended the green power goals to cover their entire supply chain.
Currently, the largest voluntary corporate green power market is in the United States, where companies are leading the development of such markets. In 2010, Google and Walmart became the first group of companies to purchase green power directly from renewable energy suppliers using voluntary Power Purchase Agreements. For the past decade, the US market has experienced exponential growth. According to pv magazine, US corporations are committed to renewable energy with 10.6 gigawatt contracted in 2020 even under the shadow of the pandemic.
As the world's largest power consuming economy, China has huge potential to lead the development of the global green power market. According to the RMI, an independent non-profit organization focusing on the clean energy transition, the green power demand of Fortune 500 companies and their supply chains in China will be at least 1,440 terawatt-hours per year in 2050. RMI has been facilitating conversations between the policymakers and business communities since 2017 to promote corporate purchases of green power in China, leveraging experience in the US market.
Aside from the Work Plan of Green Power Trading Pilot, China also released e-Trading, a mobile app, on Sept 7 to guide and support green power transactions. The very first day saw trading of 7,935 GWh by 259 companies, equivalent to around 40 percent of the entire nation's daily power consumption.
Three innovations can be anticipated in China's green power mid-to-long-term trading.
The first innovation can be in the trading mechanism, both in terms of transaction mode and price setting. The trading mechanism can allow for transactions within and across provinces, with direct purchase from green power project developers or local grids. As regards price, buyers and sellers can sit down together to reach an agreement through consultation and negotiation, reflecting the supply and demand of green power. The price includes a premium which reflects the commitment of buyers to support green power development and allows green power developers to invest in developing more green power projects.
The second innovation can happen on the trading mobile app. A leading blockchain-based mobile commerce platform can provide one-stop solutions to the market, allowing traders to obtain real-time market information, file and edit registration, complete deals and acquire certification with simply a few clicks on a smartphone. Transaction via the app can be so easy that it can facilitate traders to ink more deals.
The third innovation can happen by insuring environmental attributes. The trading platform is built on the State Grids Chain, the largest blockchain on energy public service in China. With the help of blockchain technology, buyers can get a Green Electricity Consumption Certificate upon completion of every transaction with clean environmental attributes. The non-tampering feature of blockchain allows the app to trace the lifetime of green power, from generation to transaction to consumption, helping to prevent double-counting of environmental attributes, securing the integrity of the system.
China's green power trading pilot market is highly promising but is still in a nascent stage. More efforts are needed to unlock its full potential. Based on the first group of green power mid-to-long-term pilot deals, the current green power price premium is around $5 to $8 per megawatt-hour, which means an approximately 10 percent price incremental. The price premium, as a result of bilateral negotiations between the buyers and sellers, falls entirely within their expectations. But in the future, a green price premium from 5 percent up to 20 percent of the benchmark coal power tariff can still be expected, which will be a challenge for a voluntary market for clean energy consumption. Contracts with a longer term, such as multi-year green power purchase agreements, can be a way out from this challenge.
Corporate green power demand is the main driving force behind the rapid growth of the market. As the focal point of global supply chain, the huge domestic demand for green power will be instrumental in giving China's green power market a boost. Innovation on collective procurement through the entire supply chain initiated by key companies and industrial parks will greatly facilitate green power transactions, thus contributing to global supply chain transformation.
While the US tops the world in corporate green power market up to now, we believe that China is on the right trajectory to become the world's largest corporate green power market in the coming decade, with a solid and encouraging first step forward.
Li Ting is regional managing director and chief representative at RMI Beijing Office. Hao Yihan is principal at RMI. The authors contributed this article to China Watch, a think tank powered by China Daily. The views do not necessarily reflect those of China Daily.
Contact the editor at editor@chinawatch.cn
Most Viewed in 24 Hours
China Views