There is no need for von der Leyen to politicize connectivity
Share - WeChat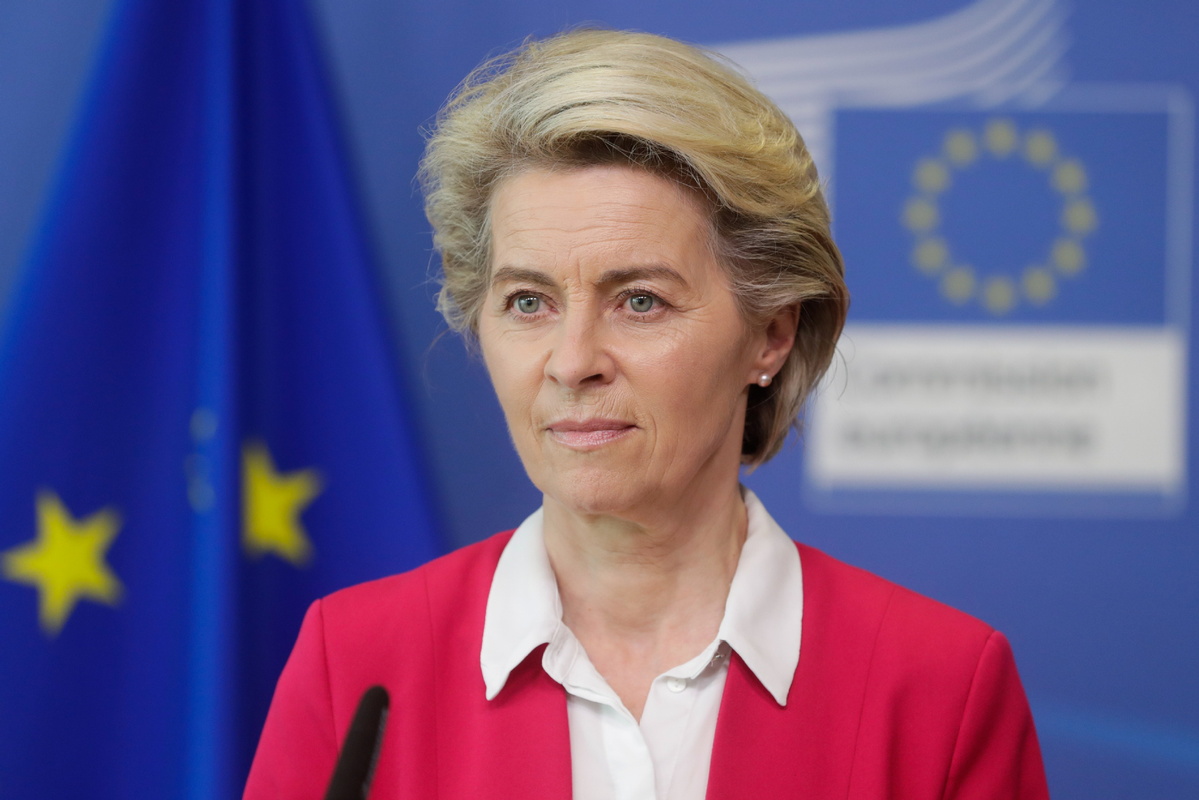 European Commission President Ursula von der Leyen took a cheap shot at China in her second State of the Union address on Wednesday when she claimed that the European Union is "good at financing roads, but it does not make sense for Europe to build a perfect road between a Chinese-owned copper mine and a Chinese-owned harbor".
Her purpose was clearly to foment concern about China's economic outreach. Would it be okay for her if the EU finances a road between a mine and a harbor owned by the United States, Indian or Saudi Arabian companies?
The EU has made many promises over the years about funding infrastructure in the developing world, but most of those have been empty talk. China, on the other hand, has been a major financer of infrastructure from Africa and Latin America to Central and East Asia, and its projects range from digital and power facilities to roads, railways and ports.
There is really no need for von der Leyen to join those toxic US politicians to counter the China-proposed Belt and Road Initiative whose aim is to help improve infrastructure connectivity and contribute to regional development.
The demand for infrastructure financing in the developing world is so huge, according to all regional development banks, that the EU, instead of wasting time politicizing it, should get off the ground to fill the void. The more countries join the infrastructure development plan, the better it will be for developing countries. Africa is waiting, Latin America is waiting. And Central Asia is waiting.
One critical reason the United Kingdom, Germany, France, Italy and many other European countries joined the Asian Infrastructure Investment Bank in 2015 ignoring US opposition was the rationale of helping improve regional connectivity, not nasty politics.
Having travelled in many European countries, I can testify the big gaps in the quality of their roads, internet connection and other infrastructure facilities, but I can't tell who financed them. And I doubt if von der Leyen can. But who cares?
China is home to seven of the world's 10 largest ports, Chinese ports are a symbol of its economic success, just like its high-speed railways.
The Greek port of Piraeus, in which Chinese company COSCO holds the majority stake, has been regarded as a success story of the Belt and Road Initiative. The Greek government and business leaders said so when I visited the port in late 2019.
In fact, when the COVID-19 pandemic paralyzed most air traffic, the China-Europe freight trains played a vital role in facilitating trade between China and Europe, including shipping badly needed personal protective equipment from China to European countries.
The latest figures from China State Railway Group show the number of freight train trips increased by 32 percent year-on-year to reach 10,030 by the end of August, carrying about 964,000 TEUs (twenty-foot equivalent units) of cargo.
The trains running on 73 routes now reach more than 170 cities in 23 European countries. Almost all the routes go through Russia, Belarus and several Central Asian countries that von der Leyen may not be fond of. But their railways have benefited so many businesses and consumers across the EU.
China and the EU, as each other's largest trade partners, are dependent on each other for many products and services. Which is a good thing. The several business leaders I talked with at the IAA Mobility show in Munich last week all applauded such interdependence despite the attempts of some of their politicians to stigmatize China.
I am glad that Chinese leaders do not complain about too many European cars or too much European investment in China and, instead, warmly welcome them.
The author is chief of China Daily EU Bureau based in Brussels.
chenweihua@chinadaily.com.cn
Most Viewed in 24 Hours
China Views