Screen legends still play a leading role
By Yang Yang | China Daily | Updated: 2021-10-28 07:35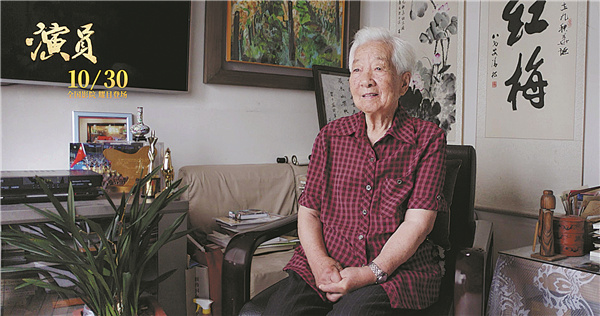 The question was direct. The answer even more so. When documentary maker Pan Yilin was interviewing screen legend Yu Lan in 2018, he asked the then 97-year-old actress what her most fervent hope was. Yu responded calmly and with great dignity that she was quietly waiting for death.
Pan took five years, from 2017 to 2021, to make his first documentary Yanyuan (Once Upon a Time in Film), which is scheduled to hit screens on Saturday.
"That was how she saw death. Her eyes looked peaceful, as if for her, she had already spent her time in this world. Her peace and calmness, especially, moved me," says Pan, 49.
However, to keep to the main thrust of the film, Pan did not keep this part of the interviews with Yu. She died in 2020-before the documentary came out. She was one of 22 film stars who had been awarded the title of "people's actors and actresses of New China "by Premier Zhou Enlai in 1962.
Eight of the 22 artists are featured in the documentary-Xie Fang, Zhu Xijuan, Qin Yi, Wang Xiaotang, Tian Hua, Jin Di, Yu Yang and Yu Lan. They committed many classic characters to film, such as Yu Lan's Jiang Zhujun in Living Forever in Burning Flames (1965); Zhu's Wu Qionghua in The Red Detachment of Women (1961); Xie's Lin Daojing in Song of Youth (1959); Yu Yang's Xiao Xiang in Baofeng Zhouyu (The Tempest) (1961); Tian's Xi'er in The White-Haired Girl (1950), Wang's A Lan in Intrepid Hero (1958), Qin's Lin Jie in Nyulan Wuhao (Woman Basketball Player No 5) (1957) and Jin's Kong Shuzhen in Youth in Our Village (1959).
Three years after graduating from university, in 1996, Pan became the host of a TV program on the film channel of China Central Television. Liujin Suiyue (Golden Years) ran from 1996 to 2014 focusing on old Chinese films, so Pan interviewed many artists from yesteryear.