Officials help as virus keeps travelers idle
By YUAN HUI in Hohhot and WANG XIAOYU in Beijing | CHINA DAILY | Updated: 2021-10-28 08:58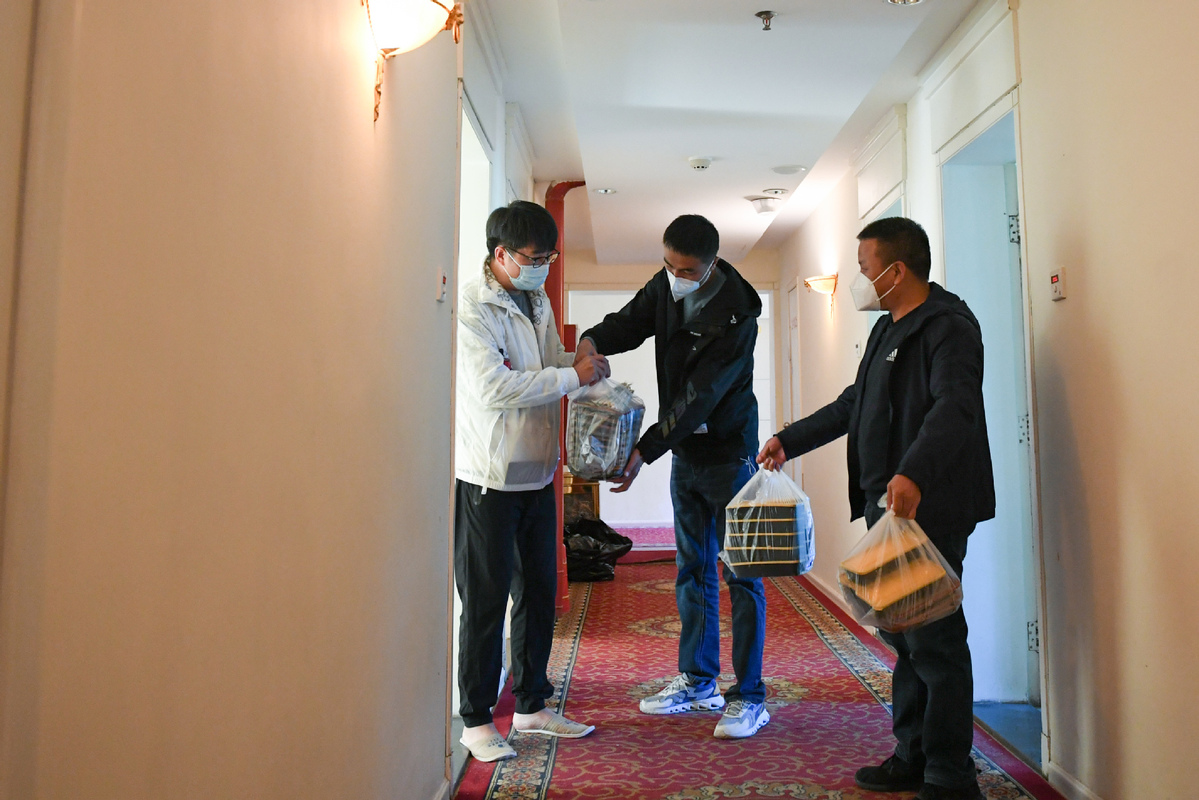 Inner Mongolia authorities ramp up efforts to help those stuck return home
Officials have urged intensified efforts to care for tourists stranded by a COVID-19 outbreak in the Inner Mongolia autonomous region and devise plans to facilitate their return home.
Inner Mongolia reported 32 new local infections on Tuesday, up from 16 on Monday. Five other provincial-level regions also registered a total of 18 new local cases on Tuesday, according to the National Health Commission.
As of 3 pm on Wednesday, there were 113 domestically transmitted infections in Inner Mongolia, with about four-fifths of them in Ejine Banner, which borders Mongolia, local authorities said.
Since the outbreak hit Ejine during its peak tourist season, when forests of desert poplar turn gold, a large number of travelers trapped in the remote town due to COVID-19 restrictions have drawn public attention.
Ma Xiaowei, minister of the National Health Commission, said on Tuesday after visiting Ejine that detailed plans should be drawn up to arrange for stranded tourists to return to their homes.
He added that preparatory measures should be in place to prevent returning tourists from triggering new infection clusters or getting infected during their trips.
In the meantime, basic necessities, such as accommodation and heating, as well as medical needs should be provided for them, Ma said.
He also stressed tightening supervision of key ports across Inner Mongolia and guarding against new imported infections.
Health experts said during a previous briefing that recent outbreaks affecting Inner Mongolia and at least 10 other provincial-level regions were caused by imported cases from overseas.
On Tuesday, Chen Zhanyun, Party secretary of Ejine, was removed from his post for poor implementation of epidemic control measures. Dai Qin, Party secretary of Alshaa League, the prefecture-level authority that administers Ejine, will now also be the banner's Party chief.
With Ejine under lockdown, Dai said on Tuesday that local public security departments should step up patrols around shops, neighborhoods and shelters for stranded tourists.
People who violate lockdown rules will be brought under control by the police and held accountable, he added.
He also urged local officials to learn about the needs of trapped travelers and put forward targeted plans to care for them.
Amid the fierce battle against the virus, the kindness of local farmers and herdsmen has also shone through.
Tsetsengua, who runs a snack stall at a scenic spot in Ejine, began making food for stranded tourists at home once the outbreak occurred.
During an interview with Xinhua News Agency this week, she said she made fried pancakes, a local specialty made with camel butter, and gifted them to tourists with the help of community workers.
"We are in this together," she said. "I hope tourists traveling here from other regions can feel at home, and stay warm and full."