Chinese overseas students weigh home, away options
By ZOU SHUO | China Daily Global | Updated: 2021-10-28 09:30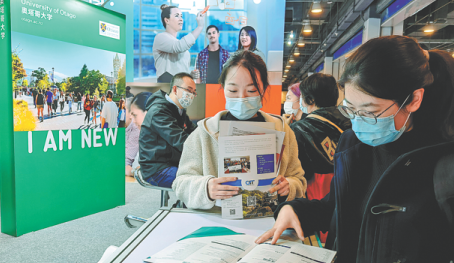 Xiao Yejiong, 20, was attending a senior high school in the United States in March last year when he decided to return home to Dongguan, Guangdong province, as the COVID-19 outbreak worsened in the US.
Since then, he has been taking online courses to prepare for enrollment in a US university. He was admitted to the University of Washington for undergraduate studies, but decided against returning to the US for the start of the fall semester in September, as the pandemic situation in the country remains severe.
"Both my family and I believe that safety is the most important thing," he said.
Instead, he began attending classes at Sichuan University this month under the Go Local program launched by the University of Washington. "Taking online courses is very inconvenient and often requires me attending the courses after midnight due to the time difference," he said.
Although the program at SCU is better than online courses, he still plans to return to the US for the spring semester to have a genuine overseas study experience, he said.
The Chinese government will continue to support students wishing to go abroad to study while improving the quality of international education at home, Education Minister Huai Jinpeng said recently.
According to the Ministry of Education, 703,500 Chinese students went abroad to study in 2019, up 6.25 percent from a year earlier. The number of overseas students returning home after graduation totaled 580,300 in 2019, up 11.73 percent from the previous year.
In the face of challenges posed by the COVID-19 pandemic, Chinese education authorities have been making efforts at home and abroad to help facilitate Chinese students' studies overseas.
In August, the Ministry of Education said it would continue to allow some joint Chinese-foreign learning institutions and programs to enroll Chinese students who are unable to study abroad this fall semester due to the ongoing pandemic, after it gave the green light for the special enrollment last year.
Seventy-two institutions and programs in 15 provincial-level regions have taken advantage of the special enrollment this year, while 94 institutions and programs enrolled 3,031 Chinese students in the category last year, according to the ministry.
Emphasizing China's commitment to the opening-up of high-level education, Huai said during the China Annual Conference for International Education and Expo in Beijing on Friday that the nation will continue strengthening education exchanges and cooperation worldwide. It will also accelerate plans to turn the country into an important hub for talent and innovation, he said. The key to building a community with a shared future for mankind lies in interpersonal exchanges, and it is only through mutual understanding that people from different countries will overcome misunderstandings and build trust, he added.
Ninety-one percent of prospective Chinese overseas students said they still plan to study abroad, while 92 percent of existing overseas students intend to return to their schools abroad in the near future despite the COVID-19 pandemic, according to the Report on Chinese Students' Overseas Study issued recently. The report by Vision Overseas Consulting surveyed 7,893 prospective and existing Chinese overseas students in January and February.
Fifty-four percent of prospective Chinese overseas students said they would prefer countries and regions with active policies for containing the pandemic, while 54 percent said they would choose destinations with a less severe pandemic situation, and 50 percent said they wanted to study in countries and regions with a friendly relationship and attitude toward China, the report said.
Chen Yuan, a third-year undergraduate student at The University of Sydney, returned home to Shanghai in March last year due to the outbreak in Australia.
Although the 22-year-old said taking online courses is "extremely boring and unproductive", she did not return to Sydney for the fall semester, as her mother was "extremely worried" about the pandemic situation abroad.
"I really wanted to go back and I have completed the COVID-19 vaccination," she said. "With the pandemic situation improving and more people receiving vaccines, hopefully, I can return next spring," she said.