For Wuhan donor, giving blood benefits him, too
By LIU KUN in Wuhan and ZHANG YU | China Daily Global | Updated: 2022-06-20 07:59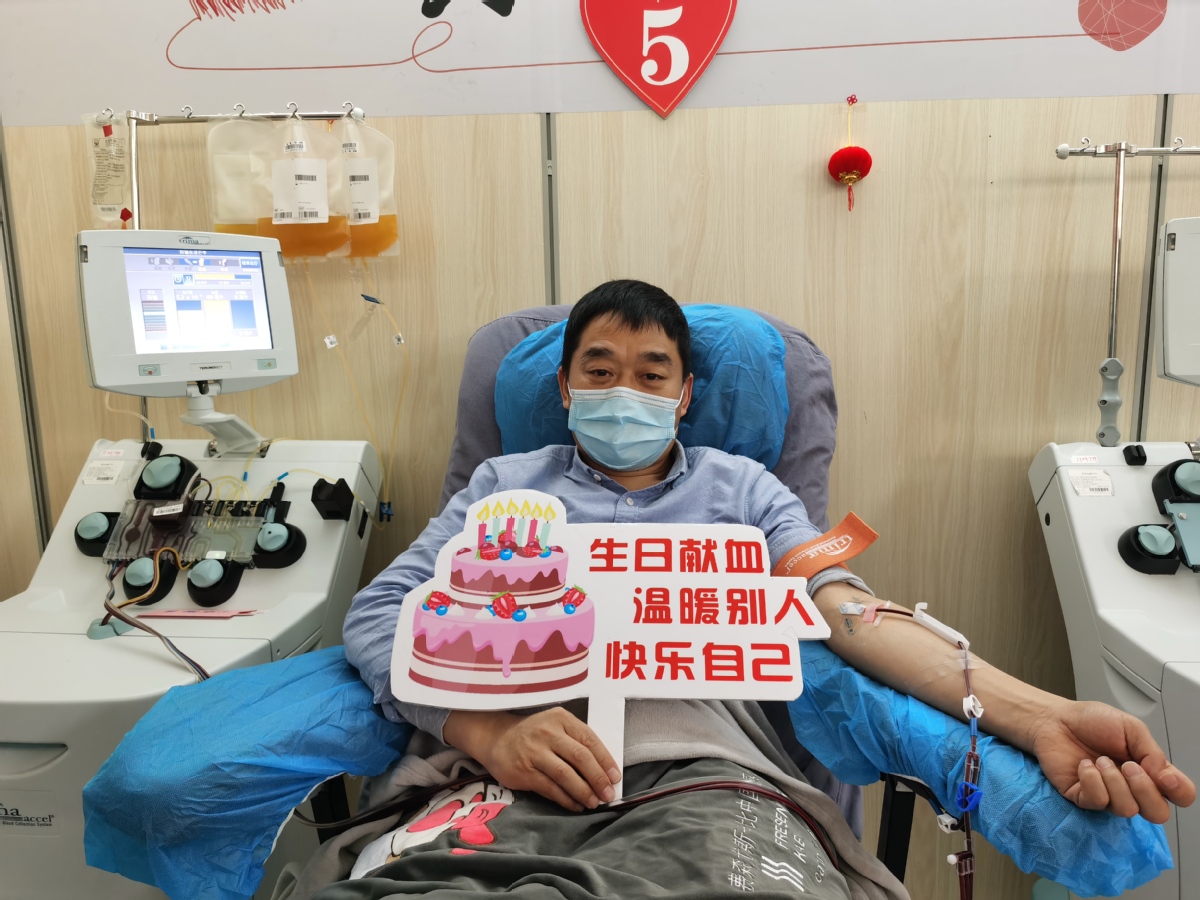 For his 50th birthday on April 2, Tian Yunming donated blood for the 100th time, his special way of celebrating his big day.
"Donating blood has become an important part of my life, and I think it's meaningful to celebrate my birthday in this way," Tian said, adding he would like to donate blood another 100 times in the future.
A high school English teacher in Wuhan, Hubei province, Tian has been a donor since 2004.
"I remember the first time clearly," he said. "I went to the mobile donation station and gave 200 milliliters of blood. I did it out of curiosity. I'd never donated before and wondered how my body would react."
As he had no reaction, he donated blood three more times.
"You can only donate whole blood once every six months," he said.
It wasn't until 2016 that Tian decided to become a regular donor. He received a call from the Wuhan Blood Center telling him there was a patient in urgent need of blood type A platelets, and that he was a match.
Tian went to the center right away and gave his first platelet donation.
"I was proud to think that my blood could help save the patient," he said.
He then discovered that it is possible to donate blood components every 14 days and that many people regularly did. He decided to join them.
"It found it really touching that people from all walks of life choose to donate blood as their way of contributing to society," Tian said, adding that there are donors of many different ages at the center.
From then on, he donated blood nearly every month. To meet health requirements, he jogs every morning with students at school to make himself stronger.
"I want to be healthier and set an example for my students, in the hopes they will grow up to be caring people who contribute to society," he said.
To his delight, two students sent him messages after graduating in 2018 to tell him that they have started to donate blood.
"I'm pleased that my students are not only successful academically, but also brave enough to take on social responsibilities."
Although he is admired by his students, Tian's family is worried about his health.
"My wife and son were always worried that I would be affected by my frequent donations, but it turns out there's nothing to worry about. Besides, I have become more health conscious as a result," he said.
He not only pays more attention to his health but eats more healthily and follows a regular routine. "It's a win-win."
Since 2004, Tian has donated 37,300 ml of blood, the equivalent contained in seven adult bodies, which has been used to treat 180 patients.
"There are about 700 citizens like Tian in Wuhan who have donated blood over a hundred times. One has even donated 300 times," said Xie Songli, deputy head of the center's blood component donation department.
She said Tian can continue to give blood until he is 60 if he is willing.
"Donations are lifesaving for patients," she said.
Contact the writers at liukun@chinadaily.com.cn