HK Palace Museum to tell China's story to world audience
Share - WeChat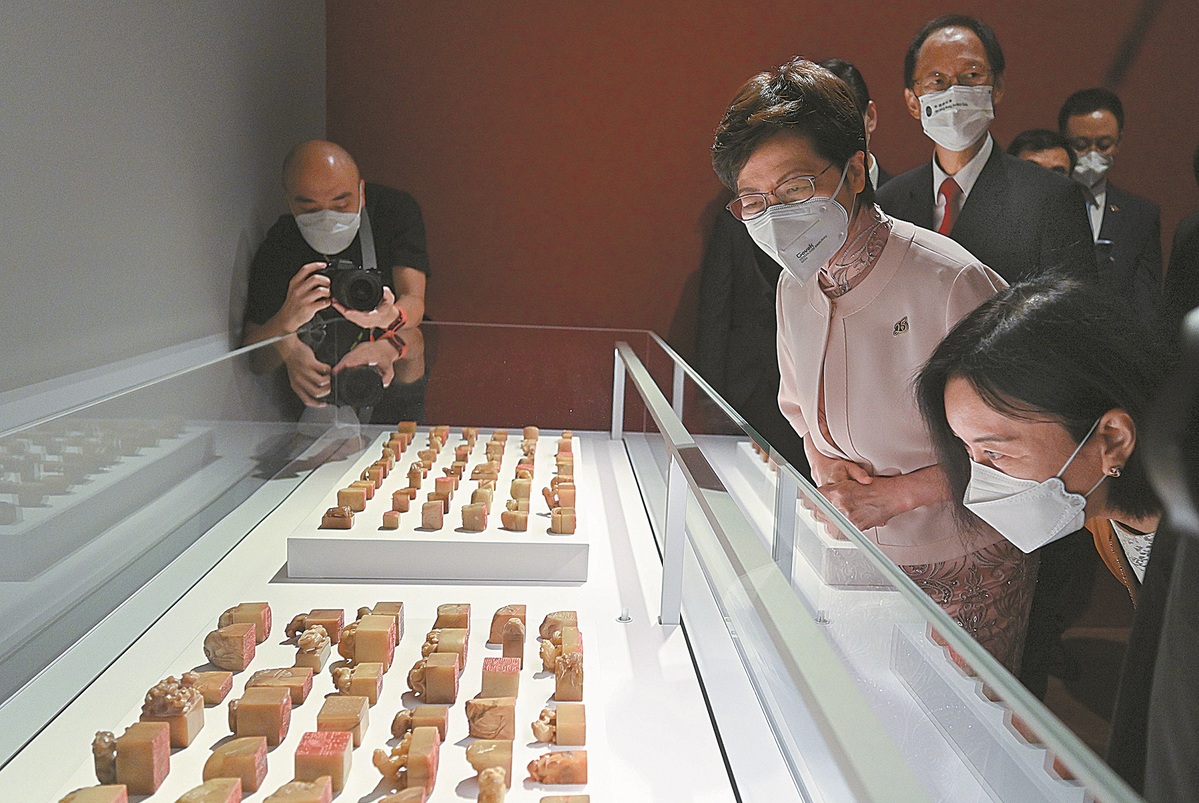 Hong Kong Palace Museum, a milestone cross-boundary cultural collaboration and must-see tourist attraction, is poised to play a greater role in exerting the charm of Chinese culture to the four corners of the globe, officials and experts said at the museum's opening ceremony on Wednesday.
The museum will officially open to the public on July 2 to mark Hong Kong's 25th anniversary of returning to the motherland. Over 900 antiques on loan from the Beijing-based Palace Museum will be on display at the grand opening exhibitions.
Attending the last public event in her term, outgoing Chief Executive Carrie Lam Cheng Yuet-ngor said the opening of the Hong Kong museum relies heavily on the nation's great support and the city's unique advantages under "one country, two systems".
Lam said besides artistic value, more important is the antiques' historical value in showcasing the Chinese civilization's development over the past 5,000 years, and their value in improving Hong Kong people's cultural confidence and national pride.
She noted that with the rich experience in museum management and curation, Hong Kong has every reason to strengthen cooperation with mainland museums and further promote Chinese culture on the global stage.
On the same occasion, Li Qun, vice-minister of the nation's Ministry of Culture and Tourism, hailed the museum as a creative combination of the Palace Museum's fine traditional Chinese culture and Hong Kong's international vibe.
Li noted that sitting on the rich historical and cultural heritage of the nation and Hong Kong's extensive overseas connections, the museum is well placed to serve the goal of telling China's story to a global audience and deepening cultural exchanges between China and the world. With this aim, the ministry will also strive hard to strengthen cross-border collaboration in culture and tourism, Li added.
Wang Xudong, director of the Palace Museum in Beijing, said the national museum's development has received much support from Hong Kong society. In the 1950s, some patriotic Hong Kong people helped the nation bring back significant lost relics. Distinguished Sinologist Jao Tsung-I, and many Hong Kong charity groups and companies, has also donated many works and collections to the Palace Museum, Wang recalled.
Expressing gratitude to the kindness, Wang said the two museums in Beijing and Hong Kong share the same vision and development goals. In the future, the Palace Museum will offer greater backing for Hong Kong's bid to be the hub for arts and cultural exchanges between China and the rest of the world, he added.
During a Wednesday media preview of the museum in Hong Kong, its director Louis Ng Chi-wa said more than 70,000 tickets for the opening exhibitions-about half of the tickets available for the first four weeks-have been sold.
Roxanne Li contributed to this story.