Reviving travel rush indicates colorful Spring Festival despite pandemic
Share - WeChat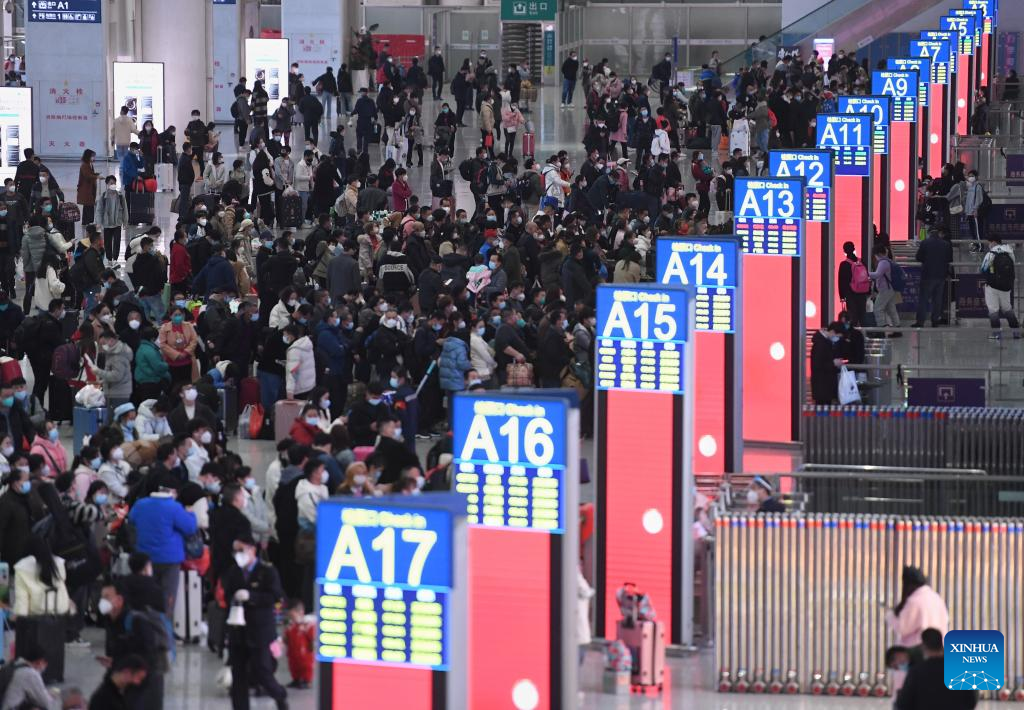 Editor's note: China's adjustment and optimization of epidemic prevention measures provide favorable conditions for the recovery of the international air transport market and tourism, writes a veteran journalist with China Daily.
Despite the concerns of some epidemiologists and virologists that large-scale human mobility could more expeditiously spread the Omicron variant and subvariants across the country, hundreds of millions of people living away from home are packing their bags to travel back home for the Spring Festival family reunion.
The tradition of Spring Festival family reunion came to a stop three years ago because of the novel coronavirus outbreak in January 2020. People were then advised to celebrate the festival in the city (or town) they were stationed and avoid travelling unless absolutely necessary.
But now that the government has eased the anti-pandemic restrictions making it possible for people to move freely, hundreds of millions of people will travel back home for the family reunion even before and after the Golden Week seven-day holiday.
It's estimated 2 billion trips will be made during this year's Spring Festival, it will be close to the data for 2019 before the pandemic broke out, when people made 2.98 billion trips during the Spring Festival travel season.
Although hundreds of millions of people still return home for the family reunion dinner on the eve of the Lunar New Year — which falls on Jan 22 this year — many festival traditions have changed.
Trains and long-distance buses used to be the most popular modes of transport two decades ago when it took about 24 hours for a train to cover the 1,300 kilometers between Beijing and Shanghai, and the limited number of trains and thus tickets made getting a train ticket during Spring Festival a nightmare.
Those who failed to get train tickets had to travel home by long-distance buses. But bus travel was exhausting, because a bus took about 48 hours to cover the 1,700-kilometer distance from Shenzhen to Chongqing.
Now, people have many more choices. A Beijing resident can book a seat in a high-speed train and reach Shanghai in less than six hours, and a Shenzhen resident can take a plane to reach Chongqing in two hours. And those who prefer driving back home during the seven-day Spring Festival holiday will be exempted from paying expressway tolls.
Visiting relatives, friends and colleagues with gifts such as fruits and cakes used to be an important part of the festival. My fondest memory of Spring Festival as a kid is about enjoying such delicacies. But mutual visits are fast becoming outdated, because people nowadays send festival greetings and virtual gifts through WeChat.
Family reunion feasts used to be the dream of family members, especially the children till three decades ago. Although food was still rationed and people could hardly get enough to eat, parents would use almost all the ingredients at hand to prepare a once-a-year dinner at home, hoping that it would bring the family good luck in the New Year.
Such family gatherings are still popular on Lunar New Year Eve, but in cities they are likely to take place in a restaurant or a hotel, for which one needs to book a table about one month in advance. But despite the food being better cooked and tasting a lot better these days, there is a lack of compassion and feeling at the dinner table. For most, the Spring Festival family reunion dinner is just like any other dinner in any other restaurant.
Bursting firecrackers, a traditional Spring Festival practice meant to scare away evil, has long been banned in most urban areas, because it creates noise and air pollution both, and is a fire hazard. But for most people, Spring Festival is not complete without firecrackers. Many people choose to drive outside the city to stay in a village for a couple of days so they could burst firecrackers and "enjoy" the sound they make.
Also, earlier, many people used to go to foreign destinations on vacation during the seven-day holiday. Their travel plans were frustrated by the pandemic-prevention and control measures for three years. But the world is likely to see a lot of Chinese travelers this Spring Festival. And despite the demise of some traditional Spring Festival customs, I keep my fingers crossed that the newly-added customs will make the festival more colorful and enjoyable.
kangbing@chinadaily.com.cn
The author is former deputy editor-in-chief of China Daily.
Most Viewed in 24 Hours
China Views