Do you prefer digital 'red envelopes'?
By Yang Dong | chinadaily.com.cn | Updated: 2023-01-21 09:03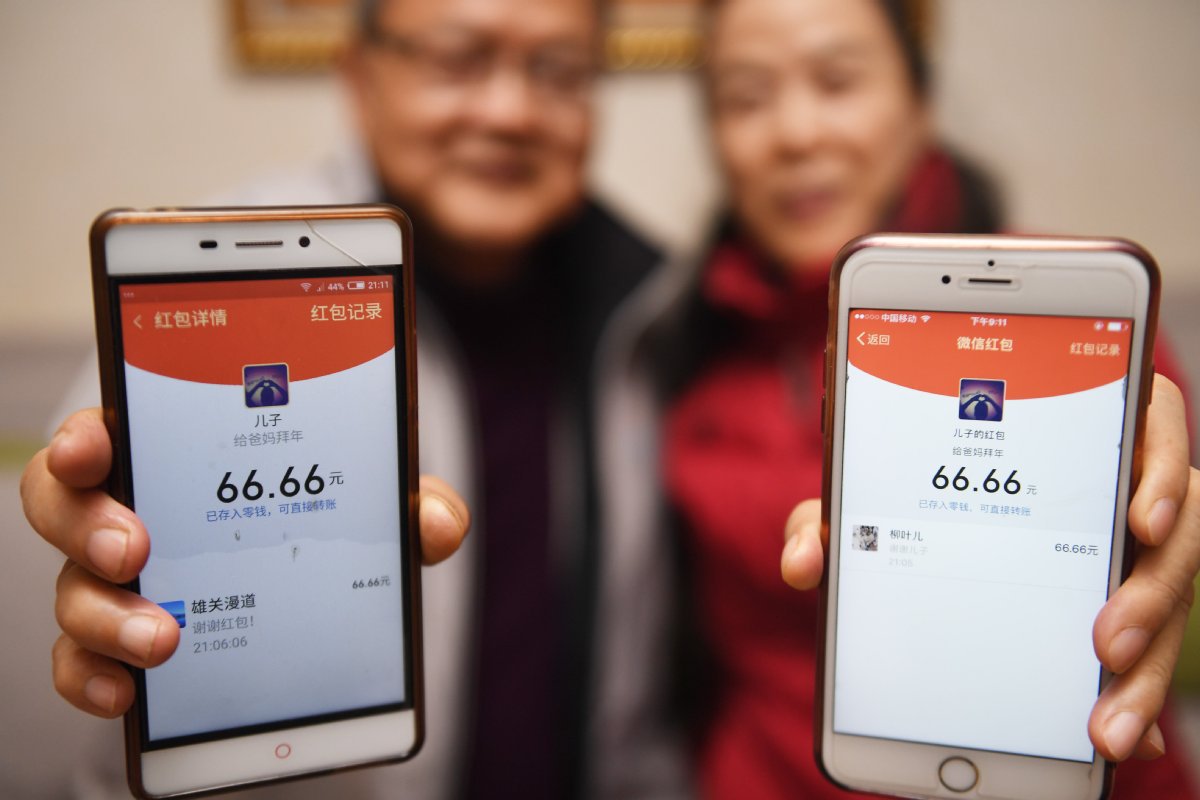 Spring Festival is a special occasion for children also because they receive red envelopes (hongbao) from elders on the occasion. While in the past, children used to rejoice after receiving hongbao from elders in person, nowadays they mostly receive them online thanks to the advent of mobile payment apps such as Alipay and WeChat, which prompted the central bank to create a new legal tender for online transactions.
That's how the digital renminbi came into being. The digital currency has increased the types of negotiable instruments issued by the central bank and diversified the payment tools. Yet the promotion and application of the digital renminbi faces some challenges, especially because it is yet to be recognized nationwide.
First, thanks to their duopoly, Alipay and WeChat account for almost 95 percent of the mobile payment market. Based on these payment apps, a complete consumer application ecosystem has been established covering activities such as shopping, traveling, giving red envelopes, making payments, and investing funds. In the short term, however, the "digital renminbi wallet" can hardly shake the existing payment and transaction ecosystem.
Second, payments made through the digital renminbi are not channeled through bank accounts. Instead, they are deposited directly into "digital accounts" and transactions can be completed through an electronic device, which may cause users to worry about the security of their deposits, particularly because if a user loses his or her cell phone, he/she could lose a lot of money.
Third, the digital renminbi may be a substitute for cash, but the public is not attracted to it because it has no appreciation value. While people can earn interest on bank deposits, no interest is offered on digital renminbi deposits.
In fact, the original design of the digital renminbi was for retail — to make transactions more convenient for buyers and sellers, or consumers and merchants. The central bank, too, has said all the research and development is to ensure the digital currency replaces M0, which shows its aim is to use it for retail, especially to make life more convenient for the public with the help of the internet and mobile apps.
First, the promotion of the digital renminbi will not shake up the ecosystem based on the established mobile payment methods, but it will definitely improve the existing competitive environment in the e-payment market. Systemic reform and innovation could help reduce monopoly capital in the market.
For example, given the existing system of electronic payment, people could confuse between payment tools and investment tools, and the central bank cannot access the full payment data which could result in certain companies establishing monopoly on data.
Besides, electronic payment has some inherent defects. The electronic payment services provided by different institutions are not compatible, creating inconvenience for users. This problem has, to a large extent, been solved by the central bank issuing legal digital currency.
Major commercial banks have carried out internal testing of the digital renminbi, and as financial institutions, Alipay and WeChat are eligible to circulate digital currencies. So it is likely that with increasing opportunities to use the digital currencies, the digital renminbi could make a difference in the existing payment ecosystem in the foreseeable future.
Second, the digital renminbi issued by the central bank is China's legal digital currency, which is reliable. It fully respects the privacy and protects personal information, and is designed to prevent risks and has unlimited legal tender. In contrast, mobile payment platforms such as Alipay and WeChat are settled by commercial bank deposits, which are essentially extended functions of a bank account.
But no matter which method we choose, there is always a risk of money loss due to loss of a device, information leakage, network fraud and other factors. But by using a distributed bookkeeping method that is anonymous and controllable, the digital renminbi has great advantages in protecting privacy.
For instance, it prevents counterparties from tracking personal consumption records and protects personal privacy while meticulously recording every capital transaction, making it easier for central bank regulators to crack down on illegal activities to reduce the loss of users' money.
Finally, the digital renminbi has independent circulation value and can provide different payment options for different users. Positioned to be an alternative to M0, the digital renminbi is form of legal tender and a public product provided by the central bank.
True, the central bank doesn't pay any interest on digital renminbi deposits, but it does not charge any fees for services such as exchange and circulation either. For users engaged in commercial operations, this saves the cost of handling fees. For individuals, it saves them from paying any charges for withdrawing funds. As a pure public service product, the digital renminbi provides issuance and circulation services for society and thus has great public welfare value.
And as a tool that can meet the needs of the public in many fields, it is likely to be widely used in the future.
With the Chinese Lunar New Year around the corner, the issuing of hongbao will gather pace and boost the development of the digital renminbi and offer the public a more convenient payment instrument. Mobile payment technology has had a profound impact on our lives, and the digital renminbi is likely to change the way society does business. This digital revolution is the result of putting the "digital civilization" theory into practice and will make life more convenient for the people.
The author is executive dean of Institute of Blockchain, Renmin University of China. The views don't necessarily represent those of China Daily.
The views don't necessarily reflect those of China Daily.
If you have a specific expertise, or would like to share your thought about our stories, then send us your writings at opinion@chinadaily.com.cn, and comment@chinadaily.com.cn.