Foreign expats embrace Year of the Rabbit
Share - WeChat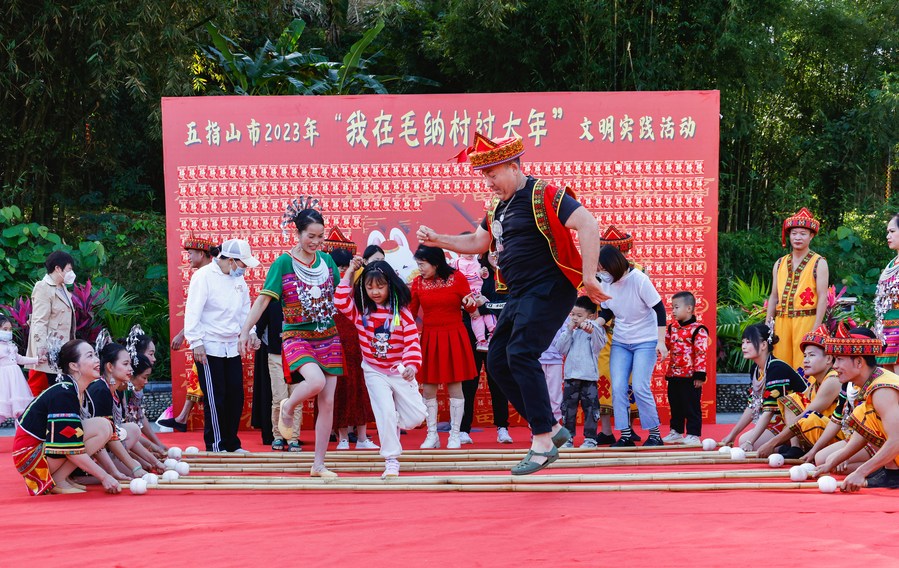 BEIJING - This year marks the Year of the Rabbit -- a gentle and beloved animal that signifies vitality, wit, caution and good luck in the Chinese zodiac.
It is the first Spring Festival since China adjusted its epidemic response measures. More foreigners living across China are exploring traditions and cultures as the pent-up travel demand has been unleashed.
Passenger trips for this year's Spring Festival travel rush are expected to reach 2.1 billion, almost twice as much as last year or 70.3 percent of the 2019 reading, according to the Ministry of Transport.
TRAVEL AND EXPERIENCES
Having been living in China for over 10 years, Muhammad Faisal, a Pakistani, experienced the Spring Festival travel rush in quite a special way.
Wearing a railway uniform and holding a detector, Faisal conducted safety checks for travelers entering Tianshui South Railway Station in Northwest China's Gansu province. Some travelers looked at him in surprise when realizing that he was a foreigner, and he responded with a warm greeting in fluent Chinese.
"I feel lucky to participate in China's 'chunyun' in this way," he said. The 29-year-old works as a railway staff member -- doing safety checks, answering inquiries and organizing boarding and disembarking.
On the Chinese Lunar New Year's Day, El Batoul Nejjaoui from Morocco sent well wishes to her Chinese friends as spectacular fireworks lit up the night in the southern Chinese city of Guangzhou.
Nejjaoui has been living in Northwest China's Ningxia Hui autonomous region for four years, working as a cultural messenger between China and the Arabic world by translating Chinese films and books into Arabic. She has celebrated several Spring Festivals and experienced many festival activities such as making dumplings, paper cutting, guessing lantern riddles, and writing spring festival scrolls.
"This year, I want to visit new places in China and also do some shopping," said Nejjaoui, adding that she expects to perceive a different China through travel during this special holiday.
While Nejjaoui explores Guangzhou, Muhammad Wagiyanto, an Indonesian student at Ningxia University, is on his first trip to Beijing, hiking the Great Wall and touring the Palace Museum.
"I heard Beijing is a city with a long history and colorful cultures, and it's absolutely true," said Wagiyanto, who has video called home to share his travel experience with his family in Indonesia.