Weaving a brighter future for traditional craft
By Zhao Jia in Beijing and Hu Dongmei in Yinchuan | China Daily | Updated: 2023-01-27 09:41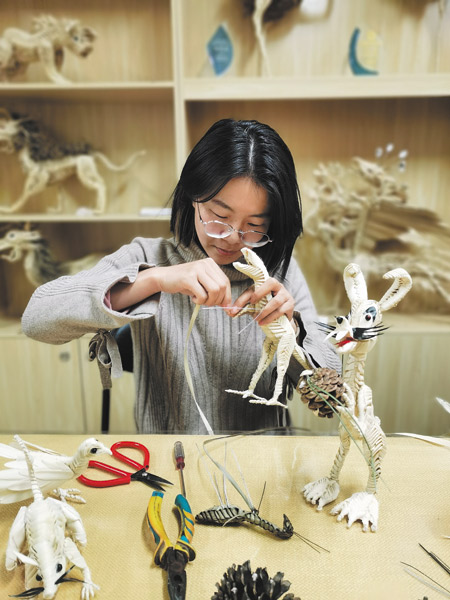 Young straw-plaiting craftswoman aspires to bring new splendor to ancient technique
What's the first thing that pops into your mind when you think of wheat straw? Most people would probably just see it as a pile of waste in a farmer's field. However, Wu Cui, an intangible cultural inheritor, can turn the straw left over from harvested wheat into beautiful and eye-catching functional artworks.
"The most common materials, such as wheat stalks, corn husks and reeds, once processed by the hands of craftsmen, can be magically transformed," says Wu, a straw plaiting craftswoman from Helan county, Northwest China's Ningxia Hui autonomous region.
Straw plaiting is a method of manufacturing daily items or artworks by braiding straw. It was listed as a national intangible cultural heritage in 2008.
"The technique enjoys a profound history in China and has played a significant role in the daily lives of common people, whether it's wearing slippers or hats made from straw, or using a straw basket or a straw mat," explains Wu, 28, a sixth-generation inheritor of straw plaiting.
The earliest straw-woven products were unearthed at Hemudu Cultural Ruins, a Neolithic cultural site located in East China's Zhejiang province. The Book of Rites, one of the classical works of Confucianism, also records that there were already mats made of cattail grass and professional straw-weaving craftsmen during the Zhou Dynasty (c.11th century-256 BC).
For Wu, her family have provided a lot of support, while the countryside, where she got involved with the craft, is a source of inspiration.
"Immersed in an atmosphere with a passion for the technique, I made the straw-plaiting my job and started from scratch after graduating from university two years ago," Wu says.
Now, she is working at a company in Beijing that focuses on the promotion of traditional crafts, such as straw plaiting and clay sculpture.
Wu also described her uncle, the fifth-generation inheritor of straw plaiting, as her first teacher.
"As a child I had a penchant for catching grasshoppers and remembered how my uncle taught me to make a grasshopper cage, my first straw-weaving work," she recalls.