Guilin aims for high-quality tourism
Share - WeChat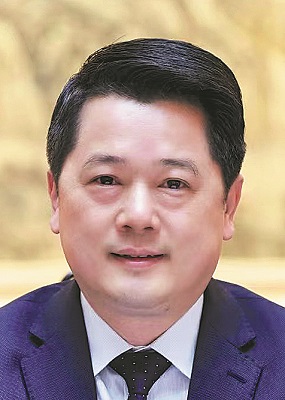 Guilin, a city in the Guangxi Zhuang autonomous region known for its spectacular karst landscape, has been promoting the high-quality development of the tourism industry and common prosperity along its path toward modernization, according to its mayor.
Local authorities have so far released 31 policies and invested in 55 pilot projects with a total value of 450 billion yuan ($64.5 billion) to build Guilin into a global tourism city, with its abundant tourism resources including four world heritage sites: Karst landform, Danxia landform in Bajiaozhai area, the Longji Yao and Zhuang ethnic terrace, and the Lingqu Canal, said Li Chu, mayor of Guilin and a deputy to the 14th National People's Congress.
"I want to express our sincere welcome to tourists from all over the world to appreciate beautiful scenery, splendid culture and delicious food in Guilin," he said in an exclusive interview with China Daily. With pleasant weather and a forest coverage rate of nearly 72 percent, Guilin is one of the first national demonstration bases for health tourism.
To facilitate the development of the local tourism industry, the city has implemented a ticket exemption policy for the iconic scenic spot Xiangbi Shan, or Elephant Trunk Hill.
During the recent Spring Festival holiday, the site received about 200,000 tourists, an increase of two and a half times over the previous year, official statistics showed.
Moreover, the scenic spot helped boost the development of catering, accommodation, cultural entertainment and other related industries in surrounding areas.
"The ticket exemption policy is bringing more economic benefits to Guilin's economy than the ticket revenue, indicating a transformation from 'sightseeing tourism' to 'leisure tourism'," said Li.
Between Dec 10 and 18, the first Guilin Art Festival was held to promote local culture with about 130 performances.
The city has also fostered other industries like agriculture to help improve people's livelihood, said Li, stressing that the Chinese way to modernization requires common prosperity. That means people of all backgrounds, including people from rural areas, should be involved in the process, he added.
In recent years, Guilin has given priorities to industrial revitalization in its efforts to vitalize rural areas. Luohanguo, also known as monk fruit, is a symbol of Guilin's devotion to common prosperity.
In 2022, the planting area of luohanguo in Guilin reached over 15,000 hectares, year-on-year growth of 37.1 percent, and the annual output of luohanguo accounts for about 85 percent of China's output.
Momordica glycosides, the fruit extract, is directly supplied to foreign markets such as Europe and the United States, forming a whole industrial chain with annual output value of more than 15 billion yuan.
"Guilin has become the world's largest and most concentrated luohanguo base for production, scientific research, processing, distribution and export. This fruit has become the most important industry in consolidating the achievements of poverty alleviation in Guilin's central and western mountainous areas," said Li.
Wang Songsong contributed to this story.