Construction machinery makers boost footprint in US
By Lia Zhu in Las Vegas | China Daily | Updated: 2023-03-18 07:24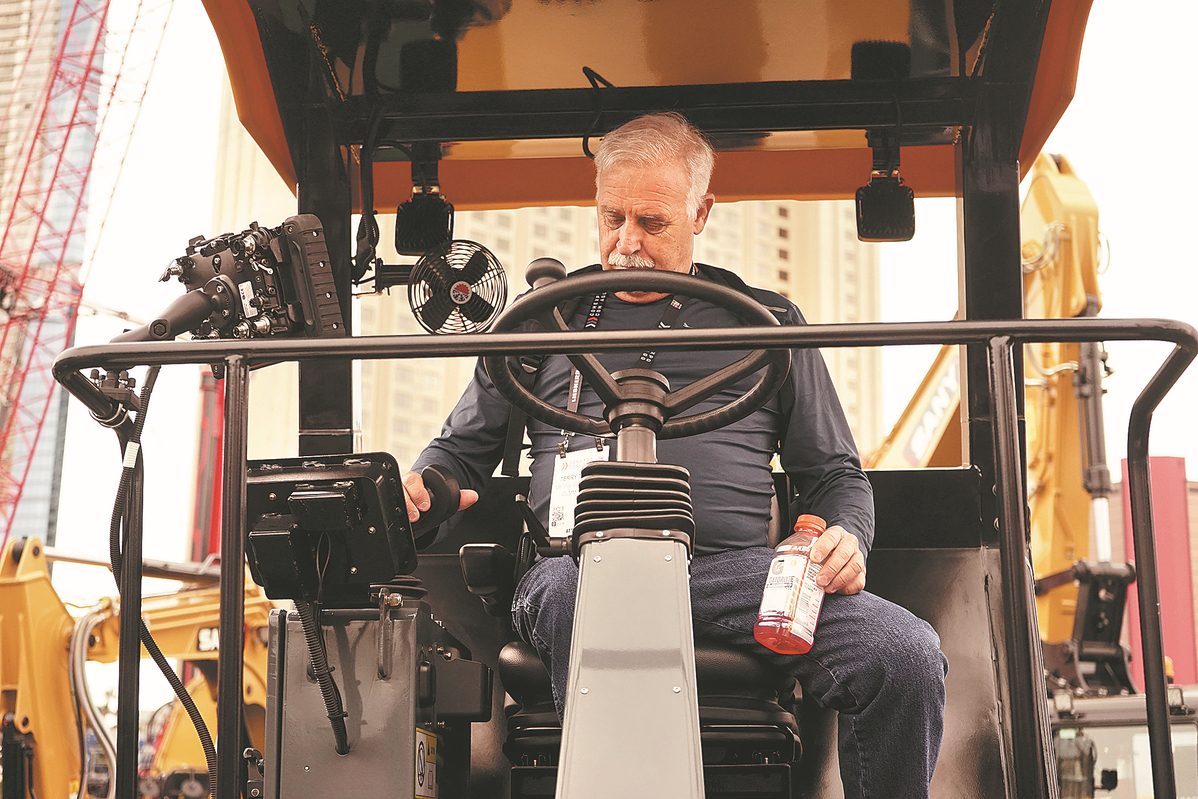 One of the world's largest trade shows for the construction sector has attracted more than 170 Chinese companies to Las Vegas this year, with many of them bringing new digital, green and intelligent technologies to meet evolving requirements.
Among the exhibitors at ConExpo 2023 in the US state of Nevada is Chinese heavyweight manufacturer Xuzhou Construction Machinery Group. It's the 10th time that XCMG has attended the exposition, and its presence this year is the largest by a Chinese company in the history of the event, Liu Jiansen, vice-president of XCMG, told China Daily.
"All of our products on display are specially designed for the US market to meet US customer demands," Liu said.
The company is displaying 50 products in nine categories — cranes, excavators, loaders, mining machinery, road machinery, piling machinery, port machinery, aerial work platforms and other vehicles. The trade show opened on Tuesday and runs through Saturday.
XCMG has seen increasing demand for green and smart technology in the US market and has been building up local R&D teams to develop such products.
On display at the trade show are electric counterbalanced forklifts, electric off-road widebody dump trucks and an unmanned single-drum roller.
Electrification, intelligence and digitalization are becoming new growth points for the intensely competitive construction machinery sector, Liu said.
The US market plays a critical role in XCMG's international business, as it accounts for a quarter of the global heavy-equipment industry, he added.
The company's products have been used in construction work in the Texas oil basin, on interstate highways in Florida and for laying pipes in Houston's oil-production area.
The products' quality and the company's delivery ability have been widely recognized by US customers, Liu said.
"We have received single orders for more than 200 machines," he said. "We are confident that XCMG, as a representative of'Made in China', will steadily grow in the US and provide more high-end products and localized service to our customers."
Guangxi Liugong Machinery Co, based in Liuzhou, Guangxi Zhuang autonomous region, has also identified the trend of green technology in construction machinery and has been developing electric-vehicle battery technology for the US market. At the expo, Liugong is showcasing 19 machines in five product lines, including wheel loaders, excavators, bulldozers and rollers.
A highlight of the display is the electric-battery wheel loader 856H-E MAX. The product represents Liugong's world-leading technology in electric vehicles, Zeng Guang'an, chairman of Liugong, told China Daily.
"Besides zero emissions, this machine has several other advantages. It costs only 60 percent of similar traditional products. Because it is electric, it has lower failure rates and requires simpler maintenance than traditional internal-combustion engines. Its overall efficiency is 10 percent higher than other wheel loaders," said Zeng.
The loader is capable of 10 hours of light work and eight hours of heavy work. It also features an intelligent battery management system that can be rapidly charged in 90 minutes, according to the company.
At the Las Vegas show, Liugong announced the sale of an 856H-E MAX to Los Angeles County for sanitation work. While the sale is the first of its kind in the US, the company said about 2,000 of the units are already in operation worldwide.
The company also debuted two new large excavators — a 36-ton excavator and a 95-ton excavator.
Like XCMG, Liugong products being exhibited are tailor-made for the US market. "US customers have higher requirements for operating safety and comfort, and demand fast response and support services," Luo Guobing, vice-president of Liugong, told China Daily.
The US market is an important part of Liugong's strategy for global expansion. "It helps us better understand industry trends and advance our international business," Luo said.
The company has launched a Liugong finance program and a support system amid efforts to localize its service in the US.
"Looking forward, our engineers in China and the R&D team in the US will continue working together to meet the specific needs of our US customers, and our service teams will improve support levels," Luo said.