Saudi Arabia offers sightseers a new world of experience
By Xu Lin | China Daily | Updated: 2023-03-18 09:21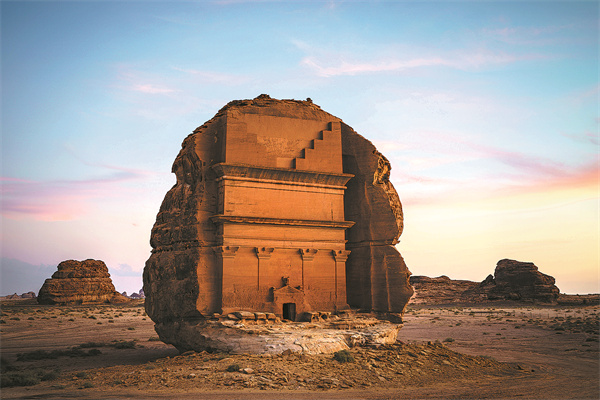 The Saudi Tourism Authority recently held a series of events in Beijing, Shanghai and Guangzhou, Guangdong province, to promote the country's natural scenery, rich culture and heritage.
The tourism bureau also held meetings with trade partners and travel agents in China, and signed strategic cooperation agreements with them.
Alhasan Aldabbagh, the tourism bureau's Asia-Pacific president, introduced the country's tourism growth story and wonderful travel experiences, ranging from diving in the Red Sea to visiting ancient cities to see exciting cultural sites.
"We are delighted to showcase the beauty of our country and its diverse tourism offerings across China. The Saudi Tourism Authority is committed to ensuring our product offerings are attractive to the Chinese market. These engagements are important in helping us achieve ambitious goals and drive visitor numbers from China to Saudi Arabia," he says.
China is one of the world's largest outbound markets, he adds, and they're going to do a lot of marketing campaigns for this strategic market.
Saudi Arabia aims to attract 3.9 million visitors from China annually by 2030, and it's expected that China will be its third top source market by then.
To simplify the application process for foreign travelers, Saudi Arabia introduced the e-visa program in 2019, allowing eligible citizens, including Chinese, to apply for their visa online three days before the planned travel.
Foreign tourists who fly to Saudi Arabia with Saudia Airlines can have a 96-hour stopover visa and a complimentary one-night hotel stay there.
The tourism bureau, Aldabbagh says, is working with its partners to provide customized services that address the different needs of Chinese travelers, such as group and budget visitors, providing them with delightful experiences of adventure, culture, heritage and nature.
Young people can have desert adventures and engage in sports, such as hot-air ballooning and ziplining.
He encourages Chinese travelers to venture beyond the hotels and interact with locals to experience the friendly and safe environment.
"I often hear from those who come to Saudi Arabia for the first time that they are amazed by the locals' generosity," he says.
"We're promoting authentic Arabian culture as the ultimate selling point for tourists."
The country is home to six UNESCO World Heritage Sites and many archaeological sites.
Besides exploring the cities and mountains, visitors can go deepsea fishing, as well as dive and snorkel in the Red Sea that boasts vibrant coral reefs.
Saudi Arabia is also a major entertainment hub, hosting large sporting events and festivals.
Aldabbagh notices that Chinese and Saudi Arabian people share common values rooted in family, respect for elders, and a sense of community that unites them.
Chinese people are known for their politeness and courteous behavior, which is echoed in Saudi Arabia.
Chinese culture, he says, as one of the oldest and most respected cultures in the world, is popular in Saudi Arabia. This affinity toward Chinese culture has sparked new establishments that offer authentic Chinese experiences, including Chinese restaurants.