Xi'an memory jogged by both past and present achievements
Share - WeChat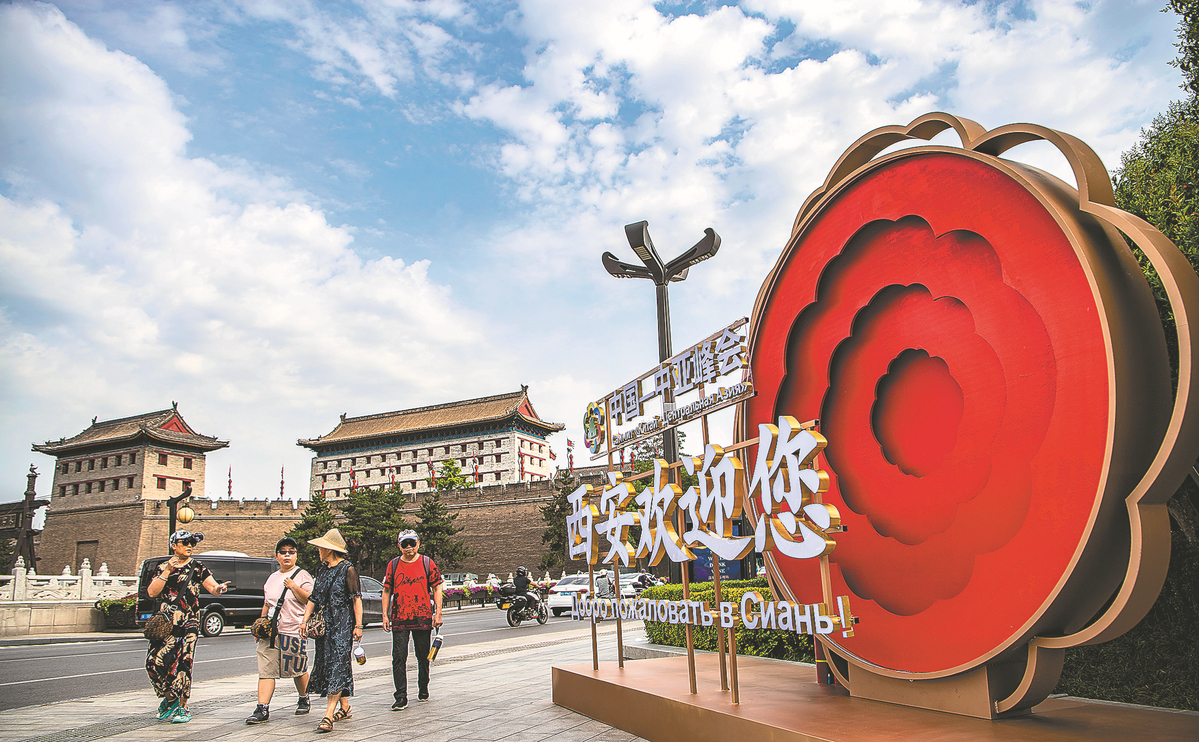 Editor's note: Xi'an, the capital of Shaanxi province, is a cosmopolitan metropolis where visitors can experience both its ancient past and glorious present. Xi'an locals' lifestyles combine the best of China's culture and history, writes a veteran journalist with China Daily.
China's ancient capital of Xi'an, Shaanxi province is home to a prosperous form of business not seen in most of the Chinese cities — hanfu leasing, or leasing traditional Chinese costumes to tourists for a fee.
In Xi'an, one is likely to see many women dressed in colorful traditional costumes that were once popular in China. Behind the elegant dresses and the beautiful hairdos are the service provided by about 1,000 hanfu leasing shops scattered across the city.
Hanfu generally refers to a long flowing robe with loose sleeves and a belt at the waist.
Due to Chinese people's growing confidence in traditional culture, traditional costumes are making a comeback with many youngsters putting on traditional costumes either to take wedding pictures or visit scenic spots to draw more public attention.
But nowhere else has hanfu been as well received as in Xi'an. It is reported that during the May Day holiday, more than 8,000 hanfu dresses were leased out in one scenic spot alone.
Despite the high price — ranging from 400-1,500 yuan ($57-212) per day for a set of dress and the facial makeup and hairstyle depending on the quality of the dress and the skills of the makeup artist and hair stylist — the people I talked with said they just could not resist the impulse of dressing up in hanfu when they visited the Bell Tower and Drum Tower, or the Terra Cotta Warriors. In fact, they insisted that hanfu best suits the environment of the ancient capital.
I was born and grew up within the Xi'an City Wall, and left the city at the age of 19 to pursue higher education and seek a career in other cities. Forty-five years have passed since then. And since I have retired now, I had the time and luxury of walking or cycling around the city, during my last visit to the city, to relive my memories, the memories of my childhood and teen years.
Yet the more places I visited, the less confident I became of claiming to be an old Xi'an resident. The city has "grown up" to such an extent that I couldn't help feeling like a stranger.
It has grown both in size and glory — and height.
When I left the city in the late 1970s, it had a population of less than 3 million. Today, the city has a population of 13 million. The rapid increase in population is not the result of a high local fertility rate but of the city's policy to attract more talents from across the country and its efforts to expedite urbanization.
To accommodate the population and thousands of investment projects, the city has kept expanding in size. Places that were remote when I was young have now become next-door business centers and shopping malls, thanks to the eight subway lines in operation. Seven more lines are under construction.
When I left Xi'an, its urban area ended, for all practical purposes, at the city wall. But now, even after driving 10 kilometers in any direction, one could still be sandwiched between skyscrapers. As a result, I felt like an alien outside the Xi'an City Wall because the new urban areas used to be farmlands owned by local villagers when we were young.
When I looked for the schools I studied in and my childhood living compound, I discovered that the old buildings had been razed and replaced by 8-10-story buildings that served other purposes — buildings within the city wall, according to urban regulation, cannot have more than 10 stories.
My memory-jogging journey ended with mixed feelings. As a journalist, I know how much changes have taken place in China over the past four-odd decades. But when it came to my hometown, the dramatic changes still left me in shock, though they are mostly changes for the good.
I know that changes are unavoidable, especially in a city that is developing at a fast pace or wants to develop. But I hope greater attention is paid to preserving the important symbols and special features of neighborhoods and local communities. Xi'an, in fact, is doing well in this direction and has benefited from a host of new developments including hanfu leasing business.
The author is former deputy editor-in-chief of China Daily.
kangbing@chinadaily.com.cn
Most Viewed in 24 Hours
China Views