Graduate employment remains stable
By CHENG SI | chinadaily.com.cn | Updated: 2023-08-15 23:59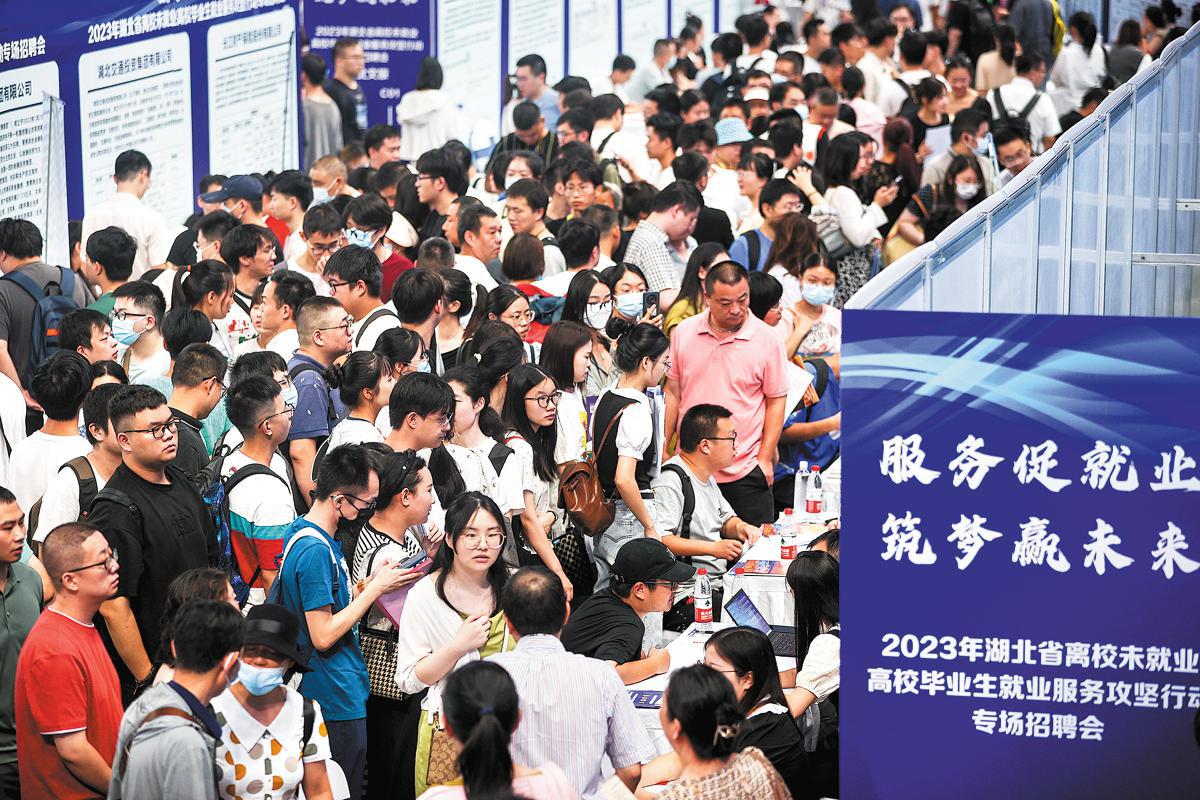 China is making continuous progress in helping fresh college graduates land jobs, and is also stepping up efforts to optimize its statistical practices to gauge the youth employment market to better serve the nation's social and economic development.
Latest figures from the National Bureau of Statistics showed that the surveyed unemployment rate in urban areas was 5.3 percent in July, up 0.1 percentage point compared with June. However, the July figure is 0.1 percentage point lower compared with the same period last year.
"Information from the Ministry of Education shows that most college graduates have landed jobs and the group's employment remains stable," said NBS spokesman Fu Linghui at a news conference on Tuesday in Beijing.
Last month, Minister of Education Huai Jinpeng said the number of college graduates this year reached 11.58 million, up about 8 percent year-on-year, and their employment rate saw a growth of around 2 to 3 percentage points, as of July 2, compared with the same period last year.
Thanks to the joint efforts of the central government and the people, the result is "worthy of recognition", Huai added.
According to Fu, the nation has launched a series of campaigns this year to recruit college graduates to grassroots positions, such as village doctors.
"Supportive policies in social security and employment allowances have been made available to private companies to encourage them to create more job opportunities. So far this year, private companies nationwide have offered 670,000 additional jobs to college graduates compared with the same period last year," he said.
Fu emphasized that authorities at all levels are looking at ways to help graduates who are yet to find jobs. "The job situation for college graduates will continuously improve with the implementation of employment promotion policies," he added.
For example, Hohhot in the Inner Mongolia autonomous region launched on Monday seven job-promotion campaigns, aiming to attract 50,000 college graduates who will either land jobs or will be encouraged to start their businesses in the city by the end of the year.
According to Hohhot's human resources bureau, the city will organize two large-scale and more than 20 regular job fairs from August through November to help fresh graduates and those who will graduate next year to find jobs.
Every county or banner — county-level administrative unit in the region — will organize a night job fair once a week in densely populated places from August through late September, the Hohhot bureau said.
The NBS has suspended the release of the youth unemployment rate from August because "economic and social development is continuously evolving, necessitating ongoing improvements in statistical practices". Labor force survey statistics also require further enhancement and optimization, it said.
China has seen an increase in the number of urban students in recent years. In 2022, there were more than 96 million urban young people age 16 to 24 in China, of whom more than 65 million are students.
"While college students focus on gaining knowledge on campuses, the public holds different opinions on whether we should include these students in our employment analysis before their graduation. We also need research to extend the age range to define 'youth' as young people now have longer schooling years," Fu said.
He stressed that suspending the release of youth unemployment rate will not affect the calculation of the general unemployment rate. "The bureau will improve its statistical methods to reflect the real situation of the nation's employment market in the future to better serve the nation's economic and social development," he added.