It's time normal rail system 'caught up' with high-speed railway
Share - WeChat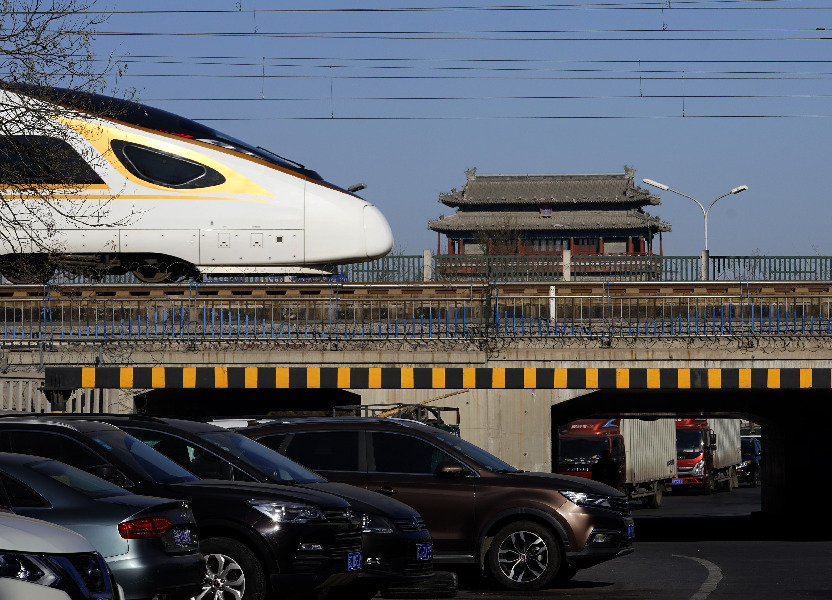 China is celebrating the 15th anniversary of the introduction of high-speed trains this year. The Beijing-Tianjin high-speed intercity railway started operation on Aug 1, 2008, a week before the opening of the Beijing 2008 Summer Olympic Games.
Many, including my family, rushed to experience the joy of travelling on a high-speed train which covered the distance of 160 kilometers from Beijing to Tianjin in half an hour. However, few people at the time could foresee that high-speed trains would become a significant means of travel for the common Chinese people.
Statistics show that by the end of last year, China had 42,000 km of high-speed railway, which cover more than 90 percent of the cities with a population of more than 500,000. Despite complaining about the high train fare — about half a yuan for 1 km and double the fare for normal trains — many still dig deep into their pockets to buy tickets for high-speed trains.
In fact, high-speed trains have become a top travel choice for Chinese people travelling to any city or town that is more than 300 km away on business or for other purposes.
After a new-generation high-speed train, Fuxing, was pressed into service in 2017, the authorities raised the speed limit to 350 km an hour. Such is the popularity of high-speed trains now that airlines are offering unbelievable bargains to passengers — sometimes the airfare is lower than the price of a high-speed train ticket for the same destination. But considering the long distances from residential areas in cities to the airport, early arrival requirements for flights and possible flight delays/cancellations, nowadays many people don't even bother to check flights before booking a high-speed train ticket.
Given the huge amounts of money invested to build and run high-speed trains, railway operators will have to wait for a long time to get profitable returns. Only a handful of high-speed lines are said to be profitable, with the Beijing-Tianjin intercity railway being one such line.
The fact that the railway is financed and operated by State-owned enterprises has made it possible for China to expand its high-speed train network, the largest in the world, to serve the people despite not making profit. Tianjin's Wuqing district, for example, is a beneficiary of the intercity high-speed railway. Several shopping districts that have cropped up near the station attract as many as 10,000 visitors a day who travel from Beijing and Tianjin or vice-versa by high-speed trains. As a result, Wuqing's GDP has increased fivefold over the years.
So before calling the high-speed railways a money-losing project, one should remember that the benefits it has brought and will bring to the country in the future will be many times the trillions of yuan invested in it over the past 15 years.
The central authorities are encouraging neighboring provinces and cities to integrate their economies, as well as their education, research and social welfare mechanisms, so as to make their development more efficient and inclusive. Without high-speed railways, such integration cannot be realized.
China's high-speed railway has been expanding at an average of 3,000 km a year. This year, the authorities are likely to add another 3,000 km of new rail tracks, though only 2,500 km will be for high-speed trains.
Does that suggest slowing down of high-speed rail development? Maybe. Having enjoyed fast-paced growth over the past 15 years, I think it's time China sorted things out by focusing attention on improving the existing 110,000-km-long normal rail tracks — with trains running at 100 to 200 km an hour on most of the routes.
A railway network, if well-coordinated between high-speed and non-high-speed trains, should increase the efficiency, affordability and profitability of trains.
The author is former deputy editor-in-chief of China Daily.
kangbing@chinadaily.com.cn
If you have a specific expertise, or would like to share your thought about our stories, then send us your writings at opinion@chinadaily.com.cn or comment@chinadaily.com.cn.
Most Viewed in 24 Hours
China Views